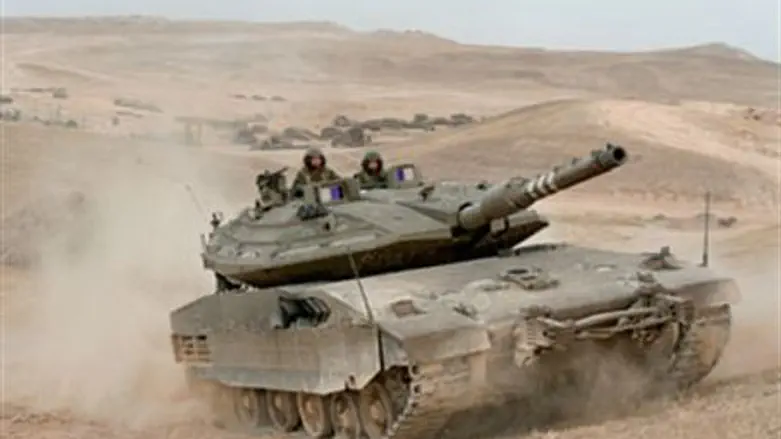 Merkava 4 Tank
Israel news photo: IDF
Israeli tanks and bulldozers crossed several hundred feet into Gaza Tuesday afternoon and killed one terrorist after a bomb exploded near an Israel patrol vehicle at the Gaza separation/security barrier. Earlier in the day, another roadside bomb was discovered and detonated by sappers.
The IDF vehicle was not damaged, and the soldiers escaped injury. The IDF rejected claims by Hamas that it had set a tank on fire.
Terrorists often try to plant bombs at the fence, where IDF vehicles patrol. Their strategy is to blow up the vehicles and kidnap soldiers, dead or alive. Hamas claimed that three youth had approached the "no-entry" area to look for scrap metal, although it is widely known that the patrol area is a closed military zone.
Israel last week began an unofficial self-imposed ceasefire when Hamas's announced it would prevent rival terrorist groups from attacking Israeli civilians and soldiers. The Israeli military last weekend did not retaliate following terrorist attacks on Israelis even after Hamas' announcement. The IDF held fire despite three mortar and one rocket attack since Thursday.  Four more mortars were fired at Israelis Tuesday afternoon, causing no injuries or damage.
In a separate incident Tuesday, one terrorist was killed in an apparent "work accident" in central Gaza. Two others were injured, according to Hamas spokesmen.