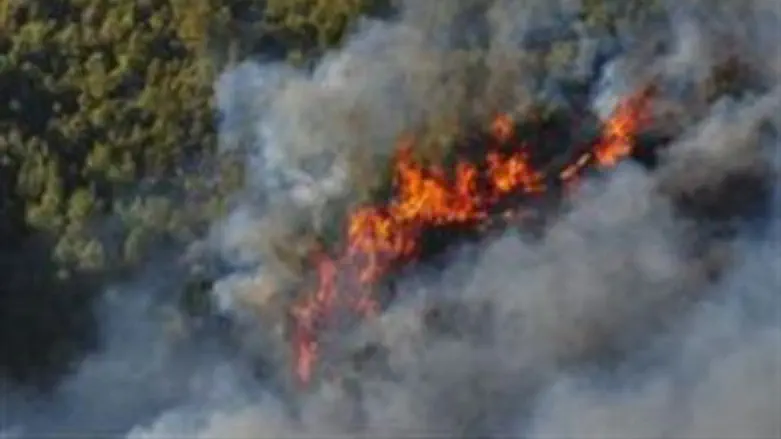 Carmel fire
Israel news photo: Flash 90
The Jewish Federations of North America announced on Monday that it will distribute $2.4 million to help Israel recover from the devastating Carmel Mountain fire earlier this month.
JFNA, the umbrella organization of more than 150 Jewish federations in North America, said that it will allocate $550,000 to the system's partners on the ground in Israel, the American Jewish Joint Distribution Committee, the Jewish Agency for Israel and the Israel Trauma Coalition. An initial amount of $340,000 was already deployed on Monday for immediate relief efforts.
The initial money will help pay for activities during the wildfires, such as relief for evacuees, respite activities for youth, and trauma relief and professional support.
JFNA has helped the relief efforts from the beginning. Several weeks ago, while the fire was still being fought,  it helped sponsor the Jewish Agency's organized educational activities for the hundreds of children evacuated from their homes because of the fire. The initiative included organized educational activities for children which took place in localities  are safe and distant from the fire, and included outings and performances in the center of the country. 
In addition, JFNA has set up a special Carmel Wildfire Allocations Committee that will research proposals of programs which are aimed at addressing mid- and long-term needs created by the fire, such as programs of the JDC, Jewish Agency and the Israel Trauma Coalition. The committee will announce additional allocations based on the outcome of its research.
The devastating forest fire killed 44 people, most of whom were Israel Prison Service cadets who were being transported on a bus after assisting in the evacuation of the Damon Prison.  At a certain point the fire began spreading at great speed and the bus was caught in the flames with no chance of getting out.
The fire also killed three senior police officers from the Haifa police force, including Haifa Police Commander Ahuva Tomer, as well as 16-year-old volunteer firefighter Elad Riven, who died while trying to save the people who were trapped on the burning bus.
This past Saturday, firefighter and young father Danny Hayat succumbed to his wounds at Rambam Hospital in Haifa and became the 44th victim of the fire.