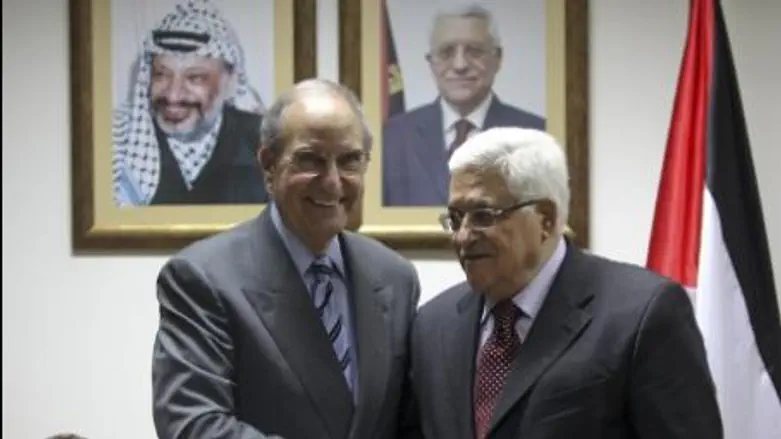 Mitchell and Abbas, with picture of Arafat
Israel news photo: Flash 90
The Palestinian Authority on Tuesday rebuffed the latest American effort to convince it to sit down with Israel to negotiate the establishment of a new Arab state within Israel's current borders.
PA Chairman Mahmoud Abbas decided not to follow Prime Minister Binyamin Netanyahu's act of pleasantries and public optimism and instead continued to place his demands on the line: a guarantee from the United States that Israel will recognize it as a country based on the 1949 Armistice Line that marked the laying down of arms at the end of Israel's War of Independence. The line was erased in the Six-Day War in 1967, when Jerusalem was reunited and Judea and Samaria was restored to Israel after more than 2,000 years. Both wars were initiated by the Arabs.
Although Prime Minister Netanyahu publicly stated on Monday that the Obama administration has realized its failure in trying to use a building freeze against Jewish homes as a tool to lure Abbas into talks, chief Palestinian Authority negotiator Saeb Erekat stated after U.S. Middle East envoy George Mitchell's meeting in Ramallah, "Any negotiations or talks require an end to settlement activities."
Mitchell suggested "new" ideas for resuming talks with Israel, but chief negotiator Saeb Erekat said the suggestions were nothing more than what U.S. Secretary of State Hillary Clinton said in a speech last Friday. PA spokesman Nabil Abu Rudeina also said that Abbas, as in the past, would seek advice from the Arab League while waiting for a more specific Israeli response to Mitchell's overtures.
Video: Mitchell Delivers Remarks With PA Negotiator Erekat

Israel National Newsreported Monday that Mitchell's visit may be setting up Prime Minister Netanyanu for a trap that will force him to accept Abbas's demands as they are, without negotiations, as underscored by the PA's response to Mitchell Monday.
Although PA leaders refer to "negotiations" with Israel, Abbas made it clear to Mitchell that his demands are for a final agreement based on its conditions without any compromise. Secretary Clinton told the Saban Forum in Washington last Friday that she is abandoning the "freeze" track and is going back to the two-year-old idea of tackling "core issues" that the PA said on Monday must be resolved in its favor.
The French news agency AFP reported that Arab leaders sent a letter to Washington demanding Israel halt all building in areas where it claims sovereignty as well as insisting on Israeli recognition of the former borders.
Mitchell is leaving Israel for task in Cairo on Wednesday, while the Palestinian Authority continues to try to drum up international support for a United Nations resolution accepting PA demands. The European Union stated Monday that it in effect backs the idea but that the timing is not right from a diplomatic standpoint because it would harm the "diplomatic process."
"The EU recalls that peace in the Middle East should be comprehensive and reiterates the importance of negotiations on the Israel-Syria and Israel-Lebanon tracks," the Council of the European Union said in a statement. "Peace should lead to the full integration of Israel in its regional environment, along the lines set out in the Arab Peace Initiative."