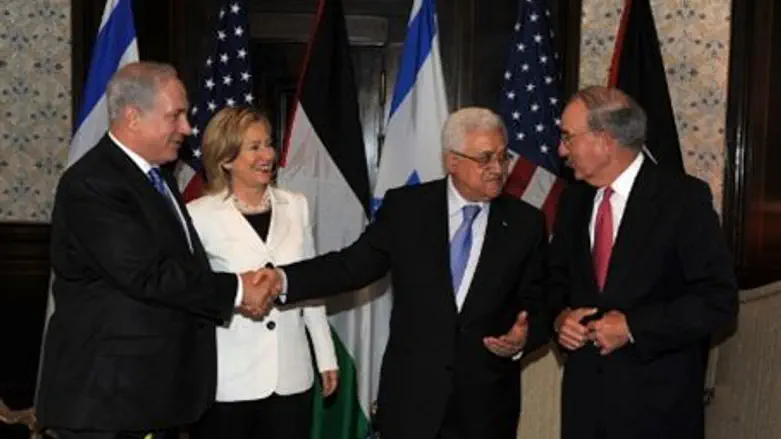 Netanyahu, Clinton, Abbas and Mitchell
Israel news photo: Flash 90
The United States is continuing its efforts to bring Israel and the Palestinian Authority together for talks which would lead to a peace agreement.
Chief Israeli negotiator Yitzhak Molcho was in Washington on Thursday where he met with Secretary of State Hillary Clinton and U.S. Special Envoy George Mitchell. According to State Department Spokesman Philip Crowley, who was quoted by AFP, the purpose of the meeting was to get "a perspective on the Israeli side of how to move forward, and the secretary and Mr. Molcho also engaged in substantive issues."
Crowley would not elaborate further, but added that the PA's chief negotiator, Saeb Erakat, was also due to arrive in Washington for talks with Clinton on Friday. He said that he is "not anticipating that there would be a three-sided meeting in Washington" at this time.
Earlier on Thursday, PA President Mahmoud Abbas met in Cairo with Egyptian President Hosni Mubarak, where he reiterated his position that the PA refuses to engage in direct talks with Israel unless a complete freeze is in place on Jewish construction in Judea, Samaria and much of Jerusalem. "Our stance is clear and we have announced it to the Americans," Abbas told reporters. "We will not agree to negotiate as long as settlement building continues."
Crowley told reporters that Clinton had spoken twice over the telephone on Wednesday with Abbas, "to follow up on other meetings that President Abbas had had in the region and to encourage President Abbas to dispatch Saeb Erekat here for follow-on discussions, and President Abbas agreed."
The U.S. has continuously attempted to get the two sides to return to the negotiating table since September, when a construction freeze on Jewish homes in Judea and Samaria ended and the PA walked away from talks. Initially, the U.S. pushed Israel to give in to PA demands for another, even stricter freeze, offering a promise that there would be no pressure for a third freeze, and giving Israel several warplanes. However, earlier this week, politicians from both the U.S. and Israel officially admitted that the talks over the possibility of the second freeze have failed.
Meanwhile, Israeli Prime Minister Binyamin Netanyahu met on Thursday in Jerusalem with Quartet envoy to the Middle East Tony Blair. During the meeting, the two agreed that efforts must be made to find ways to convince Abbas to resume direct talks.