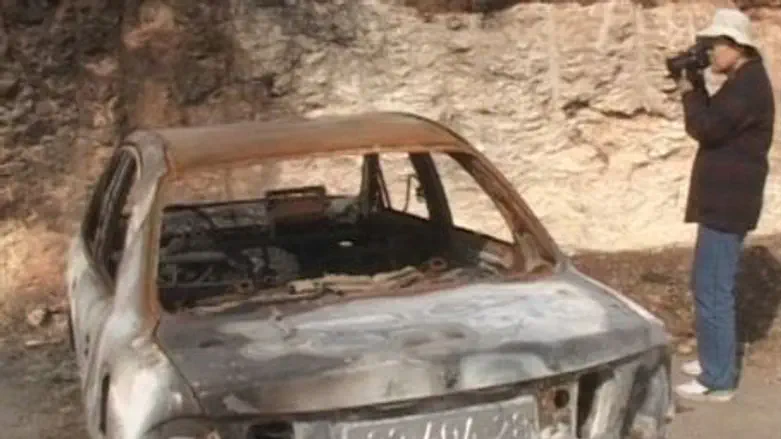 Beit Oren
Yoni Kempinski
Rehabilitation efforts continue in the Carmel following last week's devastating fire, which killed more than 40 people and saw tens of thousands of residents being evacuated from their homes. INN TV's Yoni Kempinski visited the area on Thursday to hear from residents who are in the process of rebuilding their homes following the fire.
Beit Oren resident Yochai Cohen, who owns a spa in the area, stayed on the kibbutz during the fire. He said that after the kibbutz was evacuated, he and his friends stayed. They came down to the gate of the kibbutz where he met someone, whom he later learned was Haifa Commander Ahuva Tomer, moments before she was critically injured by the fire.
"She shouted at us 'You need to go, you need to evacuate' and we let it slide. We never thought of leaving our house," said Cohen,   He added that the firefighters did not act professionally enough during the fire, that it seems as though they were not experienced enough about forest fires  to anticipate the fire's power and speed. "When [the fire] passed the road we knew it's starting to be serious. I went to the fire trucks that were here and told them they can't stop this kind of fire. They laughed in my face. It was not professional."  He did not explain why staying in one's home after authorities have decided to evacuate residents is justified if he understood the strength of the fire.
Cohen also described what he called aggressive behavior by special patrol units who came to the kibbutz. "They took the head of security in the kibbutz. They told him: 'Either you come with us or we put handcuffs on you.' And he had fought the fire since its start. This was the authorities' response to our efforts to save our homes. Shoving and pushing and not talking nicely. It was a disgrace to us and to the State." Cohen, of course, did not realize that the units were desperately afraid of more lives being lost and had no patience for time-wasting recalcitrance, even if motivated by love of one's home.
Cohen said that he and his friends saw the bus with the Israel Prisons Service cadets that went up in flames, killing most of the cadets on board. "I thought [the bus] was empty. I never thought there was any person inside or outside the bus. Only afterwards people told us what happened."
Meanwhile on Thursday, a spontaneous memorial was set up at the site where the bus tragedy occurred. Throughout the day, local residents came to the memorial, laid flowers and lit candles, paying their respects to the victims.