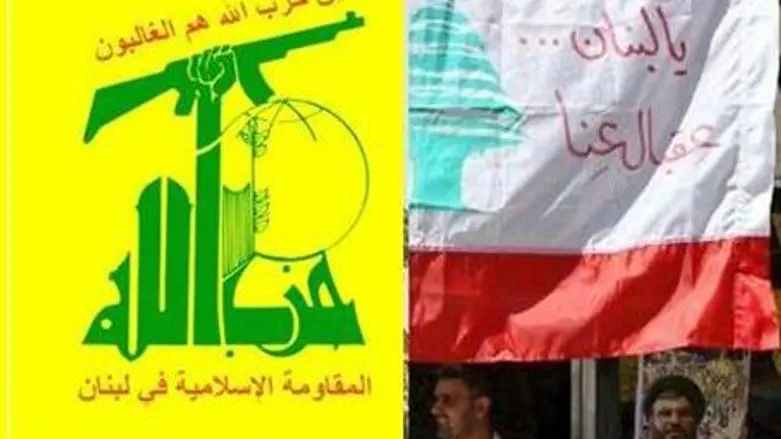 Hizbullah and Lebanese flags
Israel news photo montage
The Israeli Security Cabinet convened Wednesday to prepare for a Hizbullah takeover of Lebanon in the wake of the Hariri probe crisis, while Turkish Prime Minister Recep Tayyip Erdogan arrives in Beirut to preach unity.
An increasing number of foreign officials and analysts have stated the past several months that it is only a question of time as to when, rather than if Hizbullah will take over the Lebanese government.
The catalyst could be an expected report by the United Nations Tribunal in Lebanon announcing that Hizbullah was behind the bloody 2005 car bomb attack that killed former anti-Syrian Prime Minister Rafik Hariri, whose son now is prime minster and who has forged ties with the Syrian regime.
Wracked by mounting Syrian and Hizbullah military and political influence in Lebanon, the Beirut government is fragile, with Hizbullah holding veto power over major Cabinet decisions.
Prime Minister Binyamin Netanyahu warned earlier this month that the Hizbullah terrorist army has in effect merged with the Lebanese Armed Forces to the point that it is difficult to distinguish between the two.
Outgoing IDF Chief of Staff Gabi Ashkenazi has warned that Lebanese armed forces are assisting the Hizbullah army which includes terrorists trained by the Iranian Revolutionary Guards and which has been heavily armed with weapons from Syria and Iran.
Last week, Ashkenazi again brought up the possibility of a Hizbullah coup, less than a month after intelligence officials estimated that the terrorist organization could take over the country "in a matter of hours, not days."
In southern Lebanon, where then-Prime Minister Ehud Barak led an abrupt withdrawal of the IDF in 2000, Hizbullah has filled the vacuum with a "state within a state," providing social and public services for civilians. The presence of the United Nations Interim Forces in Lebanon has (UNIFIL) has not stopped Hizbullah from stockpiling tens of thousands of missiles, more than three times the number it possessed before the Second Lebanon War in 2006.
Fears that the timing for a Hizbullah coup is near were sparked this week by a Canadian Broadcast Corporation (CBC) report that the United Nations tribunal investigating the Hariri assassination has implicated Hizbullah terrorists.
Hizbullah has warned there will be repercussions if it is blamed. The office of Prime Minister Binyamin Netanyahu did not comment on the Canadian report.
Turkey's Prime Minister Recep Tayyip Erdogan arrived in Beirut in an effort to maintain political calm, but he also was met at the airport by 100 Armenian protesters, who raised signs proclaiming, "The Lebanese have not forgotten Turkey's bloody history in the region" and "Today's Turkey is yesterday's Turkey: malicious, oppressive and an ally of the enemy" -- meaning Israel.
The Lebanese community of 140,000 Armenians charged Turkey with genocide in fighting under the Ottoman regime nearly a century ago.