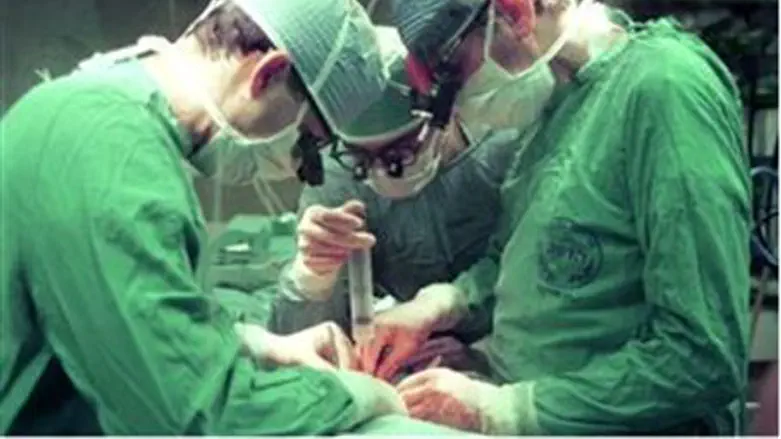 doctors (illiustration)
Flash90
A daughter to one of the royal families in the Persian Gulf is in Israel undergoing a complicated heart operation, according to Knesset Member Ayoub Kara.  
The royal patient insisted on undergoing the procedure here - after her doctors recommended one of Israel's leading hospitals as the best place to undergo the operation. For security and other reasons, the name of the hospital has not been published.
MK Kara said he was contacted by a Druze doctor who has been working in Europe for decades, along with the head of a well-known European medical center, and was asked if he could help the princess enter Israel for the operation. After discussing the situation with Interior Ministry officials, Kara was able to secure an entry visa for the patient, he said, and she landed here last Thursday, accompanied by her husband and her personal doctor. She checked into the hospital Sunday, and the operation is set to take place Tuesday.

The woman's husband, a prince of the unnamed Gulf kingdom himself, is considered a key figure in his country. He told MK Kara that if – and hopefully, when – his wife recovers, he plans to lobby for construction of a large medical center that will take in patients from around the Arab world – with Israeli doctors helping to set up the project. In a statement, MK Kara's sees medicine as an important bridge to bring Israel and the Arab world closer, "especially given the fact that in recent years more and more Arabs have been exposed to Israeli medicine, and are well aware of the high quality of Israeli medicine."

Commenting on the story, MK Kara said that "this is another humanitarian gesture that displays the true values of the State of Israel. Incidents like help bring peace closer than the last 10 years of peace talks did; peace is  made not with a piece of paper, but with positive human relations between nations."