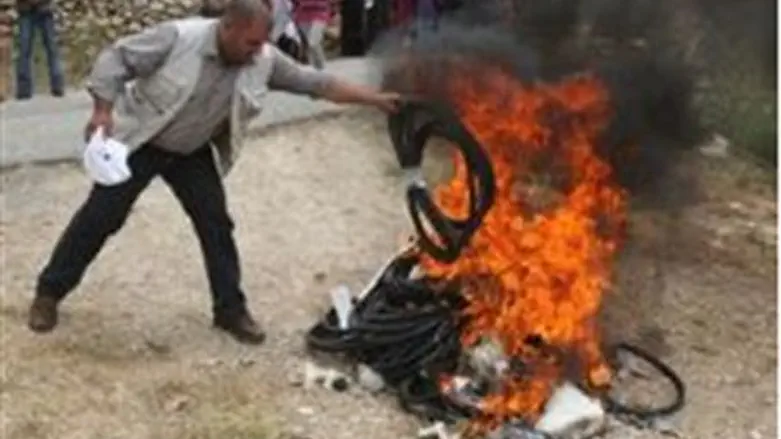 Burning Jewish goods
Israel news photo: Flash 90
As the Palestinian Authority continues its boycott on Israeli goods, apparently not all is clear on where exactly the boycott takes place.
The Ma'an News Agency, considered close to the PA, reported that a consumer protection society in Hevron said that Economy Minister Hassan Abu Libdeh's office had failed to pursue an indictment against a paper mill which was caught smuggling notebooks manufactured in the Atarot Industrial Area north of Jerusalem.
Abdul Hafiz Nofal, the undersecretary of the PA's Ministry of National Economy responded to allegations that the office violated the boycott by saying that the PA did not describe the Atarot Industrial Area as "an illegal Israeli settlement."
Nofal told Ma'an that Atarot is not considered to be a "settlement" by PA standards, despite being located east of the Green Line in Jerusalem. The reason for this, explained Nofal, is because of several PA investments.
"We have submitted a report to the Council of Ministers strongly indicating that the number of investments in this region exceeds 500 million dollars," said Nofal and added: "Many companies and factories owned by Palestinians have warehouses in that area. For example the Palestinian newspaper Al-Quds prints their papers in Atarot."
He called for "more accuracy" before judging to prevent chaos or problems.
Azmi Ash-Shoyoukhi, the head of the consumer protection society in Hevron, told Ma'an on Monday that products manufactured at Atarot "have been blacklisted" in PA markets, but expressed his surprise at the PA's double standards: the Economy Ministry continues to issue permits to the paper mill, despite seizing and confiscating hundreds of shekels' worth of products in other cases. "It seems the law has been put aside," said Ash-Shoyouki, referring to the paper mill case.
The forum of Hevron businessmen held an emergency meeting to discuss the Ash-Shoyoukhi's comments, where they slammed him comments and applauded the ministry for what they called "its efforts to keep Palestinian markets empty of settlement products."
The boycott first began several months ago, when the PA announced it would prohibit the sale of Israeli goods from Judea and Samaria in PA-controlled cities. PA officials have since demolished many tons of produce and other products grown or created by Jews in Judea and Samaria, or by Arabs working in Israeli areas.
It was later extended to include goods made in the Jewish neighborhoods of northern, southern, and eastern Jerusalem, which means it is now in place in many areas that have been annexed to Israel and are under full Israeli sovereignty. The PA, meanwhile, has taken steps to attract investors to Jerusalem despite it being under full Israeli control. These steps have included forming a company for the specific purpose of promoting investments in Jerusalem and its suburbs.