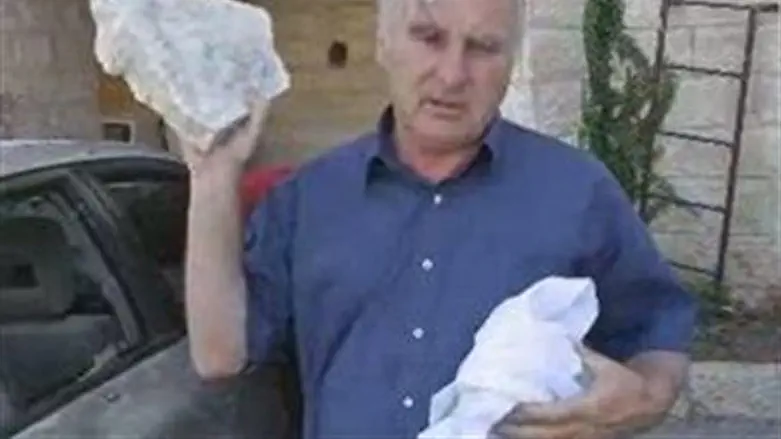 Meir Indor, with a rock thrown at him
Eliran Aharon
The police have arrested some of the Arab gang members who attacked and wounded security activist Meir Indor in Silwan, Jerusalem last month.  The Almagor Terror Victims Association, headed by Indor, says they are part of an Arab group that initiates ambush attacks against Jews in eastern Jerusalem.
The arrests are expected to lead to a drop in ambush stonings of Jews in the City of David and the vicinity, of which there have been several in recent weeks. The most famous case was the ambush of David Be'eri, head of the El-Ad organization that has built the Jewish community in the City of David. He was driving with his son when he was set upon by a group of youths who bombarded him with rocks from near point-blank range; films of the incident show that while trying to veer away, he accidentally ran down two of the attackers, bouncing one of them in the air with his car. The boys were lightly injured, and Be'eri, quickly deciding not to further endanger his life or that of his son, drove off.
One of the run-down rock-throwers is seen afterwards sitting up, though a bit dazed, and then being forced into a car, ostensibly to receive medical treatment. However, the film shows the boy struggling mightily not to enter the car, and some observers believe that he feared he would be beaten up en-route, in order to enhance the case against the Jewish driver.
Be'eri was released after being questioned by police, who essentially said he had entered a planned ambush and that he had responded correctly and normally. The presence of several photographers is further evidence of the premeditated nature of the attack.
Indor Under Attack
Indor and his wife were attacked following a Hoshana Rabba study session a month ago at the Mt. of Olives cemetery. They found themselves in a traffic jam in the Arab neighborhood nearby, from which they could not extricate themselves – even when Arab youths began throwing large rocks and metal pipes at their car. 
"I saw about ten Arab youths getting ready to throw rocks at our car," Indor later said. "I couldn't move, and even when they started throwing, I couldn't get away." One rock hit him in the forehead, leading to a large loss of blood. Finally, after a small space opened up in the traffic jam, Indor was able to absquatulate – straight to a hospital for medical treatment.
Indor's story did not receive the coverage many felt it deserved – especially considering the wounds themselves; the fact that the attackers included children from the Al Tur school, administered by Israel's Ministry of Education; the lack of police; and the fact that the victim is the head of a terror victims association, a former IDF officer who was wounded in battles with terrorists and who has helped save other near-lynch victims.
Indor said he wants to be present at the trial of his attacker, and demands that the State Prosecutor demand the full punishment "without plea bargains or other leniencies."
Two days after the Be'eri incident, a Channel Two news team and a woman named Keren Levi were similarly attacked; Levi had been stoned just several days earlier as well. In yet another recent incident, a Beit Shemesh resident returning from a Mt. of Olives funeral was stabbed when he tried to defend his wife from rock-throwers.