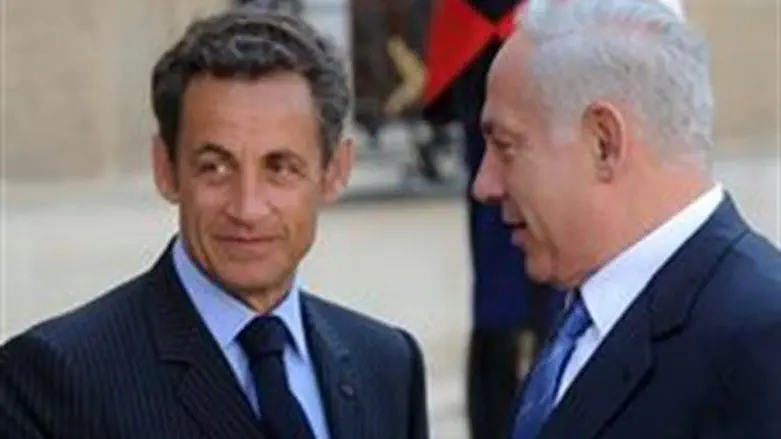 Sarkozy and Netanyahu
Arutz 7 photo
Flamboyant French President Nicolas Sarkozy met with Palestinian Authority Chairman Mahmoud Abbas in Paris on Monday and announced he will ask to host a new summit with the PA, Israel and Egypt next month. Prime Minister Binyamin Netanyahu has said he would be willing to talk with Abbas "at any time."
With Abbas placing the "diplomatic process" on hold following Prime Minister Netanyahu's refusal to extend the 10-month building freeze on Jewish homes in Judea and Samaria, Sarkozy used stronger language than U.S. President Barack Obama to oppose renewed construction for Jews.
Instead of saying that renewed building is "harmful" to American efforts advance discussions for a New Arab country headed by the PA, Sarkozy stated. "The settlements must stop. Israel has a moratorium for 10 months and it should be extended for 3 to 4 months more to give peace a chance."
Israel leaders have pointed out several times that Abbas' originally demanded a building freeze and then refused to resume direct talks after the Israeli government conceded to American pressures and instituted the unprecedented moratorium. The PA argued that the building freeze was not comprehensive enough.
Although Abbas said he would refuse to resume talks if the freeze were not extended, he has reacted more diplomatically and placed the ball in the court of the Arab League, which is to meet next week to discuss their next move. "We will not have any quick reactions,'' Abbas said after meeting with Sarkozy.
A summit hosted by Sarkozy would take the momentum away from the Obama administration, which has failed to bridge the gaps between the PA and Israel.
He told reporters that American involvement is necessary but is not enough. "Nothing will be resolved without strong American backing," he said. "But does the strong commitment that's needed have to be exclusive? That's been the question for 10 years, since Camp David. If such an exclusive commitment was enough, we'd know it."
Sarkozy's inclination to take the limelight in international discussions has reached as far as Al-Qaeda. After its terrorists kidnapped five French citizens and two others last week, Sarkozy's aide stated, "We are ready to talk to the kidnappers," who are members of a wing of Osama bin Laden's international terrorist network.
France has been reported to have frequently paid kidnappers with cash and the release of prisoners in return for French citizens and the protection of French business interests.
Sarkozy's offer to talk with the kidnappers came less than a month after he stated, "It can't be our only strategy to pay ransoms and to agree to free prisoners in exchange for unlucky innocent victims."