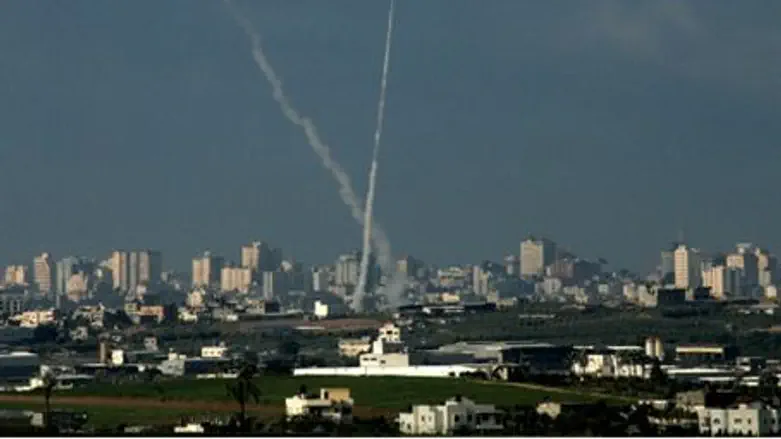 Rocket fire on Ashkelon and Ashdod
Israel news photo: Flash 90
Terrorists in Hamas-controlled Gaza escalated rocket fire Wednesday morning and fired what apparently was a Grad missile that flew over Ashkelon and exploded near Ashdod. No one was injured and no damage was reported.
A Kassam rocket and at least three more mortars exploded in the Eshkol region south of Ashkelon in the second round of attacks in several hours, bringing to 10 the total number of rocket and mortar fire.  An Eshkol regional council official said mass media mistakenly call the locations of rocket explosions "open areas."
"These are farm areas and are not in the middle of the desert. People work there. The mortars and rockets fall near them," he told Voice of Israel government radio. Several agriculture workers have been killed or wounded in previous attacks.
The attacks have brought back the era of trauma and anger that reigned over southern Israel two years ago, shortly before Israel launched the Operation Cast Lead campaign against the terrorist infrastructure in Hamas-controlled Gaza.
Despite a ceasefire agreement in January 2009, Hamas and allied terrorist have attacked Israel with nearly 500 rockets and mortars.
Several southern Israel leaders called on the government to allow the IDF to return to Gaza and silence the terrorists. However, the attacks apparently are timed to coincide with the Palestinian Authority-Israeli talks for the creation of a new country on the land of Judea, Samaria and Gaza to be headed by the PA, led by Hamas' rival Fatah party.
The government is unlikely to order a massive retaliation, which would place PA Chairman Mahmoud Abbas in the difficult position of having to condemn the rocket fire from Gaza or criticize Israel for defending itself against terror. Abbas has rarely condemned Arab violence.
Following previous rocket attacks in the past several months, the IDF has responded with pinpoint bombings of smuggling tunnels and weapons factories. Military officials have not explained why the tunnels are bombed only after rocket attacks.