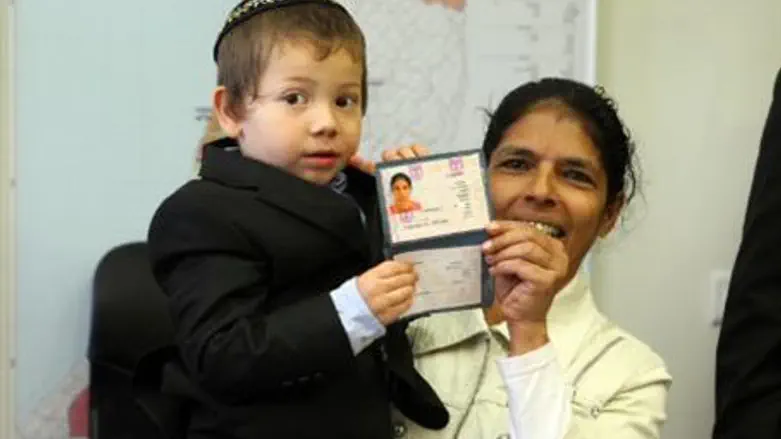 Sandra Samuel and Moishe
Israel news photo: OneFamily Fund
Sandra Samuel, the Indian nanny who saved two-year-old Moishe Holtzberg during the November 2008 terrorist attack at the Chabad House in Mumbai, received her Israeli citizenship Monday.

Video courtesy of COL.org.il
Among those murdered in the terrorist attack were his parents were his parents, Rabbi Gavriel and Rivka Holtzberg, who ran the Chabad center. As the terrorists stormed the building, the nanny grabbed the baby and ran out to safety.
Samuel was accompanied at the ceremony by a caregiver (on the left in picture, with his grandmother on the right) of OneFamily, a terror victims' organization that has helped Samuel through the bureaucratic process. After the terrorist attack and the return of little Moishe to his grandparents in Israel, official arranged for Samuel to accompany him, with OneFamily financial, legal and emotional support.
Interior Minister Eli Yishai personally granted Sandra her honorary Israeli citizenship and official residency status in Israel, with an identity card, allowing her to remain in the country for however long she chooses.
"I hope to honor this citizenship," she said at a ceremony.  "I love Israel, and I would give my life and soul for this country." 
Yishai gave Moishe with a gift and candies and said, "Moishe, look what a party they've thrown you; we all love you, all the people of Israel." He added, "This is an important and moving moment and we should continue assisting Moishe and the family. Sandra the nanny has taken Moishe at the hardest of times."
Moishe's grandfather thanked Yishai for granting Sandra honorary citizenship. "She saved Moishe from the fire, and we as Jews must thank and respect her, he said, adding that Samuel is "a righteous woman among the nations."