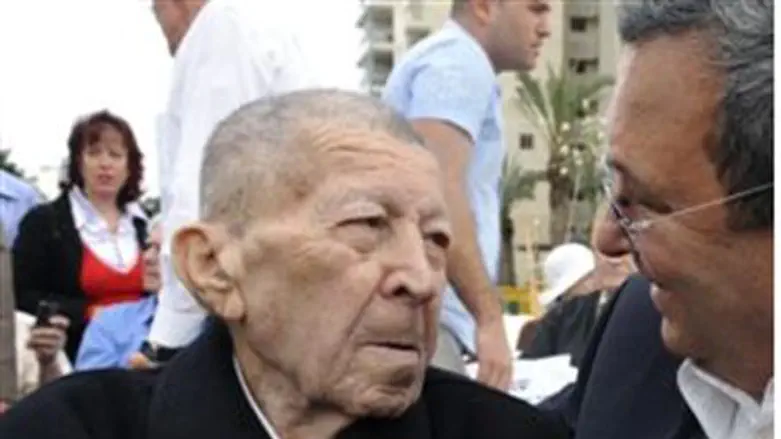 Israel Tal
Israel news photo: Flash 90
Reserve General Israel Tal, who is considered the father of the Israeli Merkava tank, will be laid to rest at 4 p.m. Sunday in the civilian cemetery in Rehovot. He died in his home in Rehovot last week at age of 86. Tal served as the Deputy Commander in Chief of the IDF and was the recipient of several Israel Defense Prizes for his work.
About his death, IDF Chief of Staff Gabi Ashkenazi said, "A legendary commander and fighter has passed away from us, one who laid the roots of the Israeli Armored Corps and who had a hand in developing the Merkava tank, considered one of the best tanks in the world. 'Talik,' as everyone called him, was one of the founders of the IDF, to whom the security of the State of Israel, the defense of its people and its borders was a life's work, from youth until old age. His contribution to the security of Israel is impossible to measure."
Tal was born in the northern community of Machanaim. At the age of five, when his family lived in Safed, he was saved from an Arab massacre in Tzfat during the riots of 1929. Arab rioters blocked the doors of the house while he and his mother and sister were inside, and then they set the house on fire. Miraculously, he and his family survived the attack.
Tal started his military career with the British Army's Jewish Brigade in Italy during the WWII. He served as a junior officer during the Israeli War of Independence in 1948, brigade commander during the 1956 Sinai War, and armored-division commander during the Six-Day War in the Sinai. Finally, he led the southern front command during the last part of the Yom Kippur War.
In 1970, Israel decided that it required home-grown tank-building capability because of doubt over overseas sales. General Tal spearheaded a team which took into account Israel's specific defense needs, combat terrain, and previous battles, and launched the building of Israel's Merkava tank. The first Merkava tanks became operational in 1980 and took part in the first Lebanon War in 1982.
Part of Tal's innovation in tank warfare was to organize the armored corps as the leading element of the Israeli offensive, taking the place of Infantry. Tal's tactics involved high mobility and relentless assault and the training of all Israeli gunners to hit targets beyond 1.5 km. These elements were key factors in Israel's success in subsequent wars.
Among Tal's sayings were, "The man in the tank will win," and "The best tank team will come out on top."