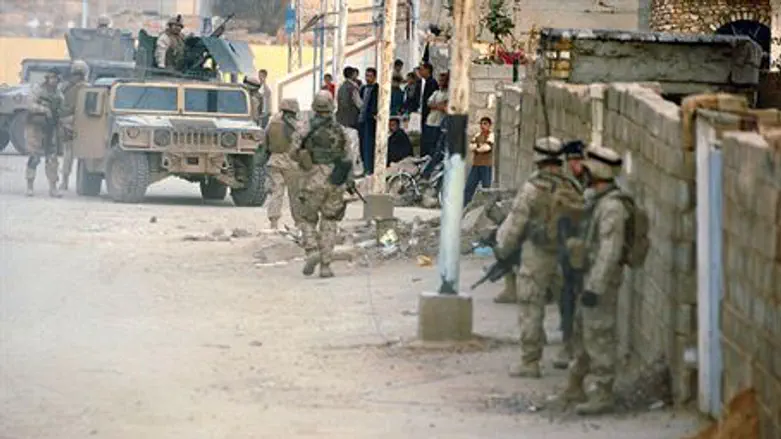 US Marines in Iraq make
Israel news photo: US Navy / Shane T. McCoy
The last American troops pulled out of Iraq Thursday, seven years after U.S. President George W. Bush launched the War on Terror in response to the Al-Qaeda terror attack on New York's World Trade Center and the Pentagon.
The soldiers of the 4th Stryker Brigade, 2nd Infantry Division crossed into Kuwait in the wee hours of the morning, officially the last combat unit to leave the country.
Welcoming the returning troops, Vice President Joe Biden speaks about the end of the combat mission in Iraq, and the future of the American mission in that country, as seen in the following video:
Video produced by the White House

The total death toll – 4,415 as of Wednesday, according to the Pentagon – is probably not final, however, since other soldiers remain in place.
Another 50,000 troops are expected to remain for an additional year to carry out noncombat functions. All will be armed, and a number of special forces units will continue to hunt down terrorists together with Iraqi soldiers. Some will assist the Iraqis on missions, at the request of their government.
President Barack Obama had set August 31 as the deadline to end American combat operations in Iraq, one of the campaign promises under which he was elected in 2008.
But whether the war was won remains a question.
Troop movements were severely curtailed during the day in keeping with the U.S.-Iraq security pact, and in order to stay safe. A brigade intelligence officer quoted by an Associated Press reporter embedded with the troops said moving the convoys overland had put the soldiers at risk – and not from the 50 degree Celsius (120 degree Farenheit) heat. 
The biggest danger, said Chief Warrant Officer 3 Gus McKinney, came from the roadside bombs planted by Shi'ite extremist groups who still maintain a strong foothold in the south.
In the north of the country, five Iraqi government workers were killed by terrorists in roadside bombings and other attacks. One day earlier, 61 army recruits were murdered by a suicide bomber in central Baghdad.
The country has been locked in a stalemate for five months over forming the next Iraqi government.