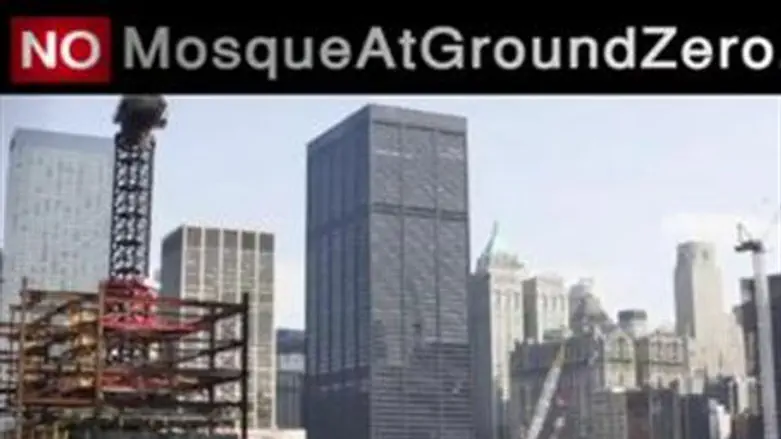 Ad: No Mosque at Ground Zero
Israel news photo: No Mosque at Ground Zero.c
U.S. President Barack Obama has quickly clarified a statement of support he made at a Friday "ifta" meal for construction of a mosque near the site of the 9/11 Al-Qaeda terrorist attack on New York's World Trade Center.
"I was not commenting and I will not comment on the wisdom of making a decision to put a mosque there (two blocks from Ground Zero)," Obama told reporters during a private family visit to Florida on Saturday. "I was commenting very specifically on the right that people have that dates back to our founding. That's what our country is about.
"My intention was simply to let people know what I thought, which was that in this country we treat everybody equally and in accordance with the law, regardless of race, regardless of religion."
The president had expressed his support for the project in prepared remarks delivered Friday evening at the traditional White House "ifta" dinner breaking the daily fast in the Muslim holy month of Ramadan. More than 100 guests were present for the event, including ambassadors and other representatives from numerous Muslim-majority nations around the world.
"I believe that Muslims have the same right to practice their religion as anyone else in this country," Obama said at the dinner. "That includes the right to build a place of worship and a community center on private property in lower Manhattan, in accordance with local laws and ordinances."
White House spokesman Bill Burton later issued a further clarification on behalf of the president.
"Just to be clear, the president is not backing off in any way from the comments he made last night. It is not his role as president to pass judgment on every local project. But it is his responsibility to stand up for the constitutional principle of religious freedom and equal treatment for all Americans," the statement said.
"What he said last night, and reaffirmed today, is that if a church, a synagogue or a Hindu temple can be built on a site, you simply cannot deny that right to those who want to build a mosque."
Controversy Rages Across America
Although New York City's Mayor Michael Bloomberg and Democratic Congressman (NY) Jerrold Nadler have also backed the $100 million project, many other New Yorkers and Americans across the country have expressed their vehement opposition.
The American Center for Law and Justice, one of a number of groups opposing the project, recently filed a lawsuit against the city to block construction of the 13-story Cordoba House mosque and Islamic community center.
Debra Burlingame, a sister of one of the pilots murdered in the 9/11 Al Qaeda attack and a spokeswoman for a group of victims' families, accused the president of abandoning "America at the place where America's heart was broken nine years ago, and where her true values were on display for all to see," she told Fox News.
Burlingame added that building a Muslim house of worship so close to the site where nearly 3,000 people died at the hands of Muslim terrorists "is a deliberately provocative act that will precipitate more bloodshed in the name of Allah."
New York Republican Congressman Peter King added that the president was just plain "wrong" on the issue. "It is insensitive and uncaring for the Muslim community to build a mosque in the shadow of Ground Zero," King said in a statement issued to the media. "Unfortunately, the president caved into political correctness."
Republican Senator John McCain (AZ) released a statement Saturday as well, saying, "I oppose the planned location of a mosque in close proximity to Ground Zero. The concerns of the 9/11 victims' families and the citizens of New York City should be respected."
House Minority Leader Republican John Boehner (OH) also issued a statement over the weekend, expressing his dismay at Obama's comments. "The fact that someone has the right to do something doesn't necessarily make it the right thing to do," he observed.