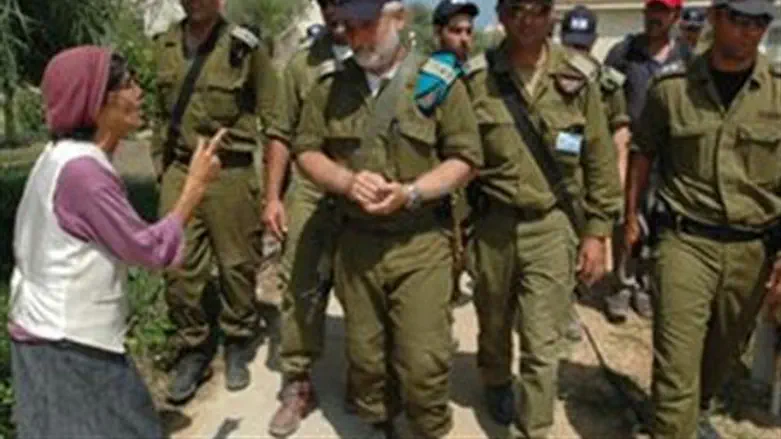 The expulsion
Israel news photo: Flash 90
As the fifth anniversary of Israel's unilateral withdrawal from Gaza and the accompanying tragic expulsion of nearly 9,000 Jews from their homes nears, Israel National News presents an overview of what Gush Katif's past and accomplishments - and its goals for the immediate and long-range future.
Approximately 350 family farms and agricultural enterprises, producing $120 million in flowers and produce, were based in the Katif Bloc of Jewish towns in Gaza. Almost 70% of Israel's organic produce originated in Gaza, as did nearly 15% of its agricultural exports, 90% of bug-free leafy vegetables, 45% of tomato exports, 95% of cherry tomato exports, and 60% of herb exports. Some 60% of Israel's geranium exports came solely from one community, Ganei Tal.
The farms employed 5,000 Jews and 5,000 Gazan Arabs. Total annual revenues were $60-70 million.
History in Brief
The first community to be built in modern Jewish Gaza was Netzer Hazani, which was established in 1976. Three other IDF Nachal outposts were already there – Kfar Darom, Morag, and Katif – and they later turned into full-fledged towns as well.
The entire area was originally filled with vast stretches of empty sand dunes "with no birds, insects or even weeds," one former resident said. "Even the amount of rain was small compared to today's rainfall measurements, old-timers say. Local Arabs, who called the area El Gerara, 'the cursed land,' were later happy when the Jews returned, because the land began to produce and the rain started again… When we first arrived, two Arab mukhtars came to welcome us, and asked us, 'Don't you know you can't grow anything here in this cursed land? According to our tradition, the last people who lived here who grew anything were Abraham and Isaac...'"
In time, the "cursed land" that became Netzer Hazani absorbed 70 families working in greenhouse farming of flowers, celery, peppers, spices, and more.
Within two years, Kfar Darom and Moshav Katif were formed – the latter by a group of new immigrants from the United States – and it became time to establish the Gaza Coast Regional Council.
In 1979, Ganei Tal was established, creating a bloc of three towns together with Moshav Katif and Netzer Hazani, while Gadid was built some ten kilometers to the south. Later, the "city" of N'vei Dekalim was built adjacent to Gadid, forming the hub and center of the Katif bloc of Jewish communities.
At the same time, plans were underway to build more farming towns in the north and south of the Gaza area, as well as Netzarim in central Gaza. By 1984, there were 16 Jewish towns in Gaza. The area's last two towns – Shirat Hayam, literally on the beach, and Kerem Atzmona – were established in 2000, bringing the final tally to 21.
Winds of Destruction
In late 2003, with Gush Katif in its prime – featuring the best in settlement and blossoming of the Land of Israel, religious values and national idealism, heroic withstanding of terrorist and rocket attacks, and international acclaim for its agriculture – the first winds of destruction began to blow. Ariel Sharon, who had arguably been the prime force behind the plans to develop and settle Gaza with Jewish towns, announced his plan to destroy Gush Katif at a conference in Herzliya in December.
Within 20 months, the deed was done: Nearly 9,000 men, women, and children – described by all as the "salt of the earth" – found themselves without homes, livelihoods, schools, and physical roots.
Here is not the place to describe the next five years of wandering, uncertainty and general suffering; suffice it to say that retired Supreme Court Judge Eliyahu Matza, who headed the official commission of inquiry into the government's treatment of the expellees, described it as a "complete and utter failure of the executive branch."
Plans for the Future
Though scattered around the country, most in the northern Negev and environs, the residents of Gush Katif are still united and still have big plans. Under the theme of Od Katif Chai – which means Katif Still Lives - they hope to build 18 (the numerical equivalent of Chai) new communities and initiate 18 new projects.
Among the new towns to be built or already in the initial stages thereof is Be'er Ganim, literally: Well of Gardens, north of Ashkelon. The name is an acronym of the communities from whence the new residents hail: Bdolach, Rafiah Yam, Gadid, Nisanit, Morag and others with one of those initials. Be'er Ganim was the name of a town in the Netanya region, which later merged with Or Yehuda and changed its name to Pe'er Ganim, or Beauty of the Gardens.
Other new towns will be built, if approved by local counscils, in the northern Negev: Katif Amatzia is to be populated by former residents of Moshav Katif, while Neta (Mirsham) will be built by residents from Tel Katifa and Kfar Darom. The former residents of the beachfront Shirat HaYam (Song of the Sea) community have changed scenery and are well into the process of building Maskiyot in the near-desert conditions of the Jordan Valley.
In addition, new neighborhoods are being added to existing cities or communities, such as N'vei Herzog in Ashkelon, Avnei Eitan in the Golan, Ganei Tal in Kibbutz Chafetz Chaim, and Shvut Katif in Yad Binyamin.
Among the 18 new projects the down-but-not-out pioneers are kicking off are: The construction of synagogues in Talmei Yafeh, Yesodot and Maskiyot; two regional community centers and four youth centers for extra-curricular, cultural and supportive activities; a family unit lecture series and workshop; 150 student scholarships; financial, medical, and vocational assistance to families; the establishment of the Gush Katif Legacy Center; and more.
For expellee Rachel Saperstein's speech at the OU in Jerusalem on July 15, click here.
For more information on the past, present and mainly future of Gush Katif, click here: <http://www.gushkatif.co.il>