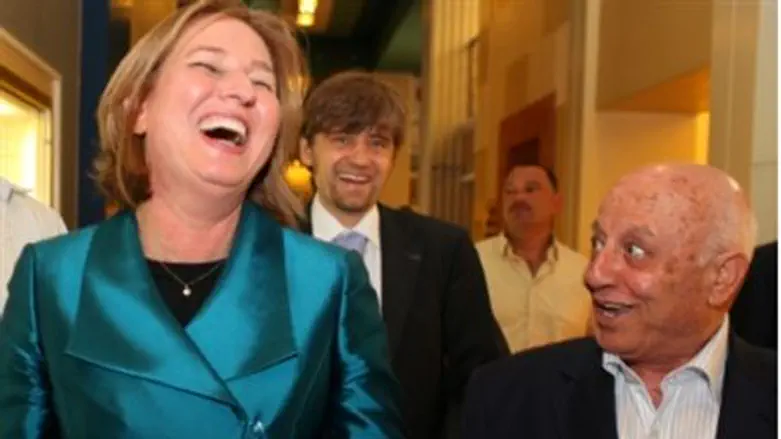 Livni and Qureia
Israel news photo: Flash 90
Top Palestinian Authority negotiator Ahmed Qureia told a gathering in Jerusalem this week that the dispute over the final status of the capital in talks between the PA and Israel is turning the city into a "time bomb."
Qureia made the statement at a panel that featured him with Kadima Opposition Leader Tzipi Livni, who contended that "the status quo is not possible." Both also agreed that indirect talks were unnecessary after years of direct negotiations. The two were leaders of their respective negotiating teams during the summit that led to the Annapolis Joint Declaration in November 2007.
Qureia and Livni met with reporters at the King David Hotel ahead of a conference organized by Hebrew University's Harry S. Truman Institute for the Advancement of Peace, entitled "The Israeli-Palestinian Proximity Talks: Lessons from Past Negotiations."
Supporting the "two state solution" is in Israel's interest, Livni told the gathering of academics, "and not a gift to the president of the United States." U.S. President Barack Obama has been actively trying to pressure Israel into increased concessions to the PA in an attempt to woo Fatah leader and PA Chairman Mahmoud Abbas to at least begin indirect negotiations, if nothing else.
Both Livni and Qureia agree that the window of opportunity for final status talks to succeed is rapidly closing. Iranian-backed terrorist organizations committed to Israel's destruction are gaining ground, especially in Gaza, they pointed out.
Qureia in particular focused on the recent announcement of plans by the Jerusalem municipality to demolish 22 illegal Arab homes in the Silwan neighborhood, and to retroactively legalize 66 others in order to rehabilitate an ancient area called the "King's Garden." The Fatah leader told the gathering that the plan, as well as other past construction, and increasing numbers of Jews moving into the neighborhoods of Silwan (Shiloah) and Sheikh Jarrah (Shimon HaTzaddik), is dangerous.
"The Jerusalem situation, I think, is a time bomb if it continues in this way," he said. "It has an impact on the Palestinian people... and on trust on both sides."
The PA is demanding all of the Jerusalem neighborhoods that were restored to the city during the 1967 Six Day War – such as Silwan and Sheikh Jarrah, among others – to be handed over for creation of a capital for a new Arab country within Israel's current borders.
Prime Minister Binyamin Netanyahu said bluntly in an interview with Fox News on Sunday, "We have differences with the Palestinians. We want a united city. They have their own views. We can – this is one of the issues that will have to be negotiated."
However, despite Netanyahu's numerous concessions, among them his controversial agreement last November to freeze Jewish construction for 10 months in Judea and Samaria, the PA has shied away from coming to the table to begin direct talks for a final status deal.