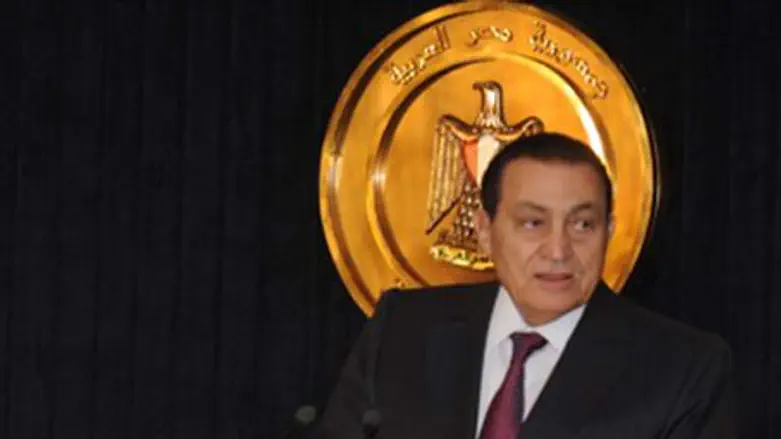 Egyptian President Hosni Mubarak
Israel news photo: Flash 90
Egyptian President Hosni Mubarak pulled the 'Gaza card' in a speech to the country's parliament on Wednesday, accusing Israel of "shirking its responsibility" to the region.
Mubarak, who is grooming his son Gamal for a run to replace him as leader of the nation in the November 2011 elections, told Egyptian lawmakers "The Palestinian issue is a top priority" of his foreign policy.
"We are exerting efforts to lift the Israeli blockade on Gaza," Mubarak said, although he failed to point out that both Egypt and Israel have agreed for years on the need to prevent Hamas from importing weapons and other ordnance with which to create an Iranian-sponsored base of operations.
Earlier this month, Cairo opened its border at the Rafiah crossing "indefinitely" to allow hundreds of thousands of Gazans to cross in and out of the region.
It was not clear, however, how long Mubarak would allow the border to remain open. Cairo has in the past been notorious for closing the terminal without warning, often leaving residents stranded for weeks in both Gaza and Egypt.
Israel announced Sunday that it would change its policy and expand the list of goods allowed through the crossings on humanitarian aid deliveries into Gaza.
Among the items still on the blockade contraband list, however, are weapons, ammunition, and dual-use items such as concrete, metal and other construction materials that could be used to build bunkers, tunnels and rockets. The construction materials will be used solely under the supervision of international aid organizations, according to the new regulations.
Mubarak claimed in his speech that Israel is trying to maintain the split between Hamas terrorist-controlled Gaza and the Fatah-led areas of the Palestinian Authority in Judea and Samaria. This, he said, is an attempt to derail the proximity talks and runs counter to the reconciliation that Egypt is trying to achieve between the two rival factions.