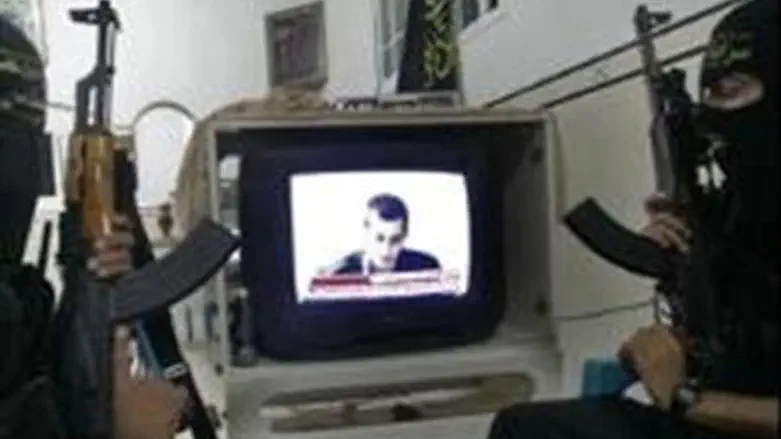 Shalit video tape released by Hamas
Israel news photo: Flash 90
Hamas has flatly refused Red Cross visits to kidnapped soldier Gilad Shalit because the terrorist organization fears the contacts would encourage Israel to try to conduct a raid and free him from his captivity, a Hamas spokesman told an Arabic language newspaper Wednesday.
Shalit was kidnapped four years ago, less one day, after Hamas and Army of Islam terrorists attacked an Israel army checkpoint in the western Negev and killed two of Shalit's comrades.
Hamas continued a propaganda campaign and psychological warfare Tuesday, claiming that it allowed Shalit watch the World Cup game in which his native country France was playing. The al-Aqsa satellite channel reported that Shalit alleged viewing of the game helped him forget depression "after the Israeli government decided to suspend indirect talks to finalize the swap deal with Hamas."
It added that the soldier "was very sad when France was defeated by Mexico during the World Cup matches held in South Africa."
Several rounds of mediated negotiations have failed to conclude an agreement between Hamas and Israel over the release of more than 1,000 terrorists from Israeli jails in return for Shalit.
Hamas has offered no signs of his health or even if he is alive except for two tapes that were released the past two years.
Shalit's parents and a large number of left-wing academics conducted a media campaign a year and a half ago to promote a proposed deal, but it collapsed after Hamas insisted on the return of "heavy-duty" terrorists to their homes in Judea, Samaria and Gaza. Israel wanted them deported to foreign countries.
There also was no agreement on the fate of 10 terrorists who have been convicted for being involved in attacks that murdered dozens of Israelis.
The soldier's parents recently have urged the government to take an opposite stand and not make any concessions to Hamas unless their son is returned home safely. The Shalit family bitterly objected to Prime Minister Binyamin Netanyahu's relaxing the partial blockade on Gaza this week without securing the freedom of the soldier.
In France, several thousand people rallied in Paris on Tuesday for his release, holding banners supporting Israel and condemning Hamas and "Iran accomplices."
In New York, a pro-Israel flotilla of several boats is scheduled to sail around the Statue of Liberty and the United Nations to show support for freeing Shalit.
The soldier's 85-year-old grandfather met with Prime Minister Binyamin Netanyahu Tuesday, telling him he does not know if he ever will be able to see his grandchild again.