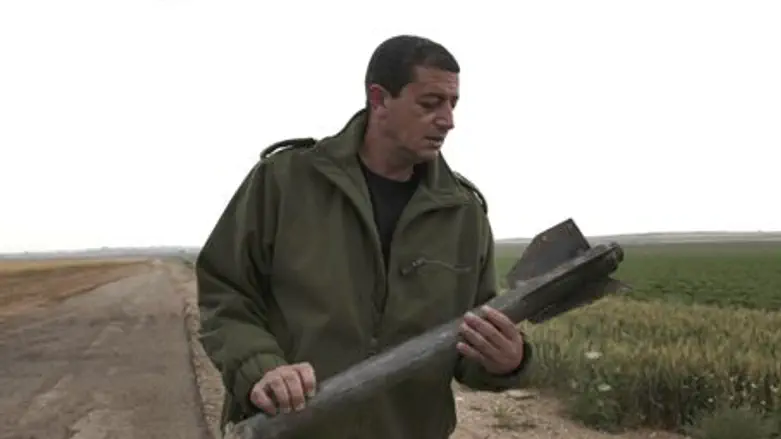 Sderot officer examines spent rocket
Israel news photo: Flash 90
Sderot residents woke up early on Friday morning to the sound of rocket sirens as Gaza terrorists launched two projectiles at the city. Both rockets hit the Shaar Hanegev region, causing damage but no injuries.
On Thursday, terrorists fired a mortar shell at the Shaar Hanegev region. The day before, terrorists fired four rockets at Israeli towns near Gaza, but missed their targets, hitting open fields instead.
Also Thursday, terrorists attempted to infiltrate Israel, but were thwarted by IDF soldiers.
Egyptian military sources reported Friday that their troops had discovered 17 smuggling tunnels to Gaza in an overnight operation. The operation was part of an ongoing effort to shut down the tunnels trade, which includes weapons and drug smuggling as well as other goods such as luxury cars, the sources said.
Four smugglers from Gaza were arrested during the mission. Three of those detained were children, all of them members of the same family from southern Gaza. They told Egyptian troops that they had been selected to work in the tunnels, despite the lack of air and danger of collapse, due to their small size.
The three have been released from custody, Egyptian officers said.