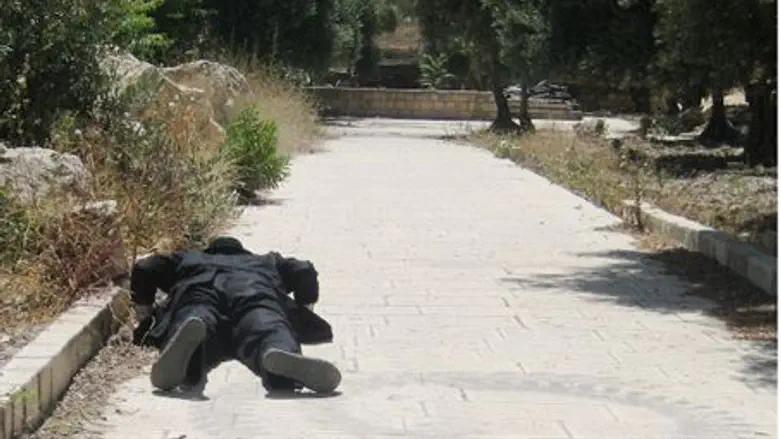 On the Mount
Har HaBayit Shelanu
A large group of hareidi-religious Jews ascended the Temple Mount Tuesday and received friendly service from the police there – unlike the harsh police treatment that Jews typically receive on the Mount in recent years. One of the Jews was even allowed to fully prostrate himself in prayer, facing in the direction of the location of the ancient Temple – where the Muslim-built Dome of the Rock now stands.
Unlike previous Jewish ascensions to the Mount in the recent past, and in contrast to this group's last ascension on Passover, in which their entry to the Mount was blocked, police on the Mount were courteous and friendly. The group was allowed in promptly upon arrival and without delays. They were gripped by excitement when one of the rabbis prostrated himself facing the presumed location of the Temple's Holy of Holies in ancient times. Police allowed this religious act as well.
Jews are usually forbidden from openly praying or even mumbling prayers on the Mount, as part of an Israeli policy of complying with Muslim Wakf's demands in this matter. It is not completely clear whether the friendly police attitude Tuesday was a fluke or a sign of changing attitudes.
Temple Mount activist Yosef Rabin told Arutz Sheva that the event is a significant one. "There has been a long running effort to bring hareidim to the Mount and now it is starting to take root," he said.
Rabin noted that ever since the liberation of the Mount in 1967, hareidi-religious Jews have usually preferred to avoid ascending it, and that the ones who went up to the holy site were Jews of the national-religious ilk. However, he said, "the image of the type of people that go to the Mount is starting to crack. It seems that everyone has followed the hareidi lead when it comes to Har HaBayit [Temple Mount], and now that hareidim are starting to go, we might start seeing a tremendous wave of all types." Most of the renowned hareidi rabbis are against going up on the mountain, as was Rav Avraham Shapira zt"l of the zionist flagship Merkaz Harav Yeshiva, for fear of treading in places that are forbidden.
The group of Jews was led by Rabbi Yitzchak Brand of the city of Emanuel and Rabbi Yisrael Ariel of the Temple Institute in Jerusalem. The rabbis say they intend to bring ever-larger groups of Jews to the Mount with the purpose of eventually holding a Passover sacrifice there.
In ancient times, Jews who ascended the Mount fully prostrated themselves as part of the prayers there. The regular Jewish prayer services in synagogues include several instances of bowing in the direction of the synagogue's Torah Ark, and partial prostration is carried out on some holidays.

Photo: Har HaBayit Shelanu