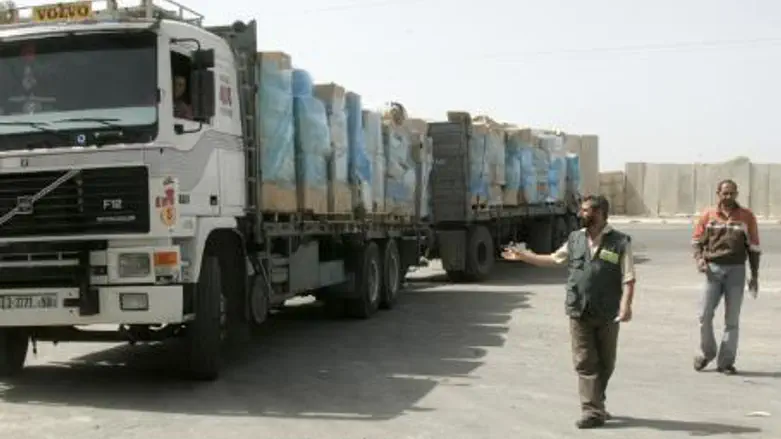 Aid truck in Gaza with clothing and shoes
Israel news photo: Flash 90
Palestinian Authority residents of Gaza received more than 13,000 tons of humanitarian aid last week via the various crossings from Israel, according to the IDF Coordinator of Government Activities in the Territories (CoGAT).
A total of 619 trucks bearing 13,593 tons of supplies delivered various foods and other goods into the region. Among the supplies provided were 76 truckloads of fruits and vegetables, 27 truckloads of wheat, 34 truckloads of meat, chicken and fish products, 45 truckloads of dairy products, 16 trucks of sugar, 50 trucks of clothing and shoes, and 37 truckloads of hygiene products.
In addition, 114 truckloads of animal feed were transferred via the conveyor at the Karni Crossing.
At the Nahal Oz fuel terminal, 1,461,000 liters of diesel fuel were pumped into the region's tanks for the power station, while an additional 293,796 liters of diesel fuel were pumped in for transportation purposes. Also, 44,704 liters of gasoline and 919 tons of cooking gas were transferred via the fuel terminal as well.
Traffic was brisk at the Erez Crossing as well: 378 medical patients and their escorts crossed into Israel from Gaza to obtain medical treatment, including those who continued on to Judea and Samaria. An additional 111 PA Arab residents of Gaza entered Israel for various other reasons as well, as did 231 staff members of international aid organizations. Meanwhile, 160 international staff members entered Gaza, also through the Erez terminal.