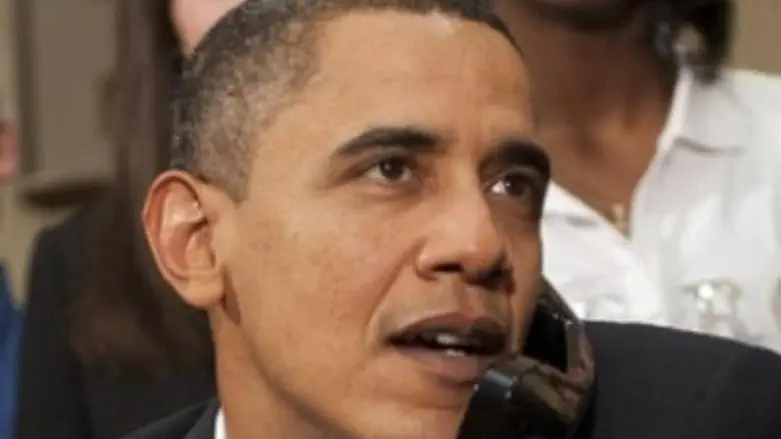 President Barack Obama
Israel news photo: Flash 90
U.S. President Barack Obama telephoned Prime Minister Binyamin Netanyahu Monday and led a 20-minute conversation in which he "reassured" the Prime Minister and discussed "how to best work together" for an agreement for a Palestinian Authority country.
His direct intervention came as U.S. Middle East envoy George Mitchell arrived to resume American-mediated talks between Israel and the PA.
The tone of Monday's phone call was far different from that of conversations between the two leaders when Netanyahu visited Washington several weeks ago. The Obama administration was up in arms over Israel's advancing plans to build homes for Jews in parts of Jerusalem that the PA, backed by the United States, wants as part of a new Arab state.
However, deep distrust lurks behind Monday's official statements. A warm Washington welcome last week for Labor party coalition chairman and Defense Minister Ehud Barak underscores the Obama administration's reported attempts to topple or at least change the makeup of the Netanyahu government.
Remarks on Monday by Barak, whose views are close to those of President Obama, were evidence that the welcome mat in Washington provided him with a catalyst for weakening the Prime Minister.
He told the Labor caucus, "If it turns out that the government must be expanded, we will have to seriously consider an expansion," which would meaning adding the Kadima party, headed by Tzipi Livni.
Meanwhile, the PA is heading into the talks without any offers of compromise on its demands. PA Chairman Mahmoud Abbas previously has said that he "has time" and can wait until the time is ripe to turn to the United Nations to recognize the PA as an independent country without any formal agreement with Israel.