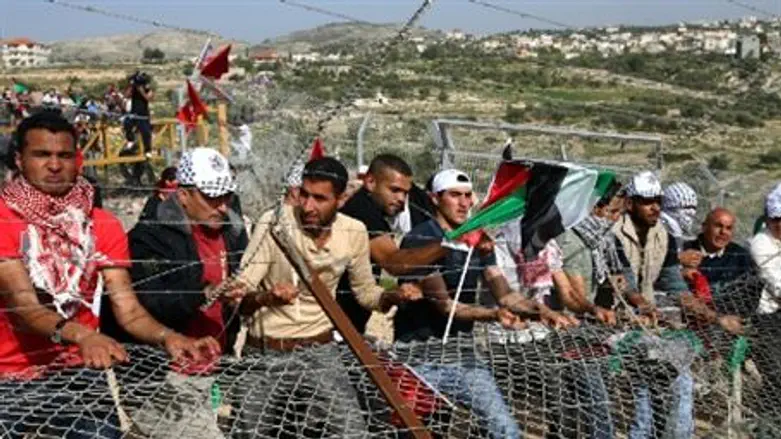 PA rioters tear down security fence
Israel news photo: Flash 90
The IDF has added non-violent weapons to its arsenal to combat the talked about new "white Intifada," which is supposed to feature non-violent protests but so far is accompanied by real violence. The "eye-for an-eye" tactics parallel the "rock machine" that shot stones back at Arab rock-throwers in the first Intifada in the late 1980s and early 1990s.
Using "skunk"  (pictured below) and "scream" machines to douse rioters with a foul smell and chase them away with loud noise, the IDF will reduce the number of those wounded and prevent a convenient way for pro-Arab media to portray Israel in a negative light.
The Palestinian Authority last week officially launched its attempt at a non-violent Intifada at a conference in Ramallah where Martin Luther King III spoke of his slain's father civil rights movements against segregation in the United States.
Blacks did not have to abandon violence as they did not engage in it to begin with.
After hearing speeches from Arabs and the comments on "resistance," the Arab code word for violence, he commented, "I am very optimistic. But I also know that we still have a long way to go."
The new tactics focus on the weekly demonstrations near two Arab villages at the separation-security fence in Samaria. Injuries often are suffered by Israeli soldiers and police from rocks and other missives as well as leftists and Arabs who are kept back with tear gas and rarely with rubber bullets, but media generally focus on the "civilians".
The "skunk machine" (pictured above) is a small cannon that fires foul-smelling liquid which provides soldiers with a non-harmful weapon. The "scream machine" is mounted on IDF vehicles and produces an ear-splitting noise that also causes no injuries but helps scatter rioters.
"This is a new trend, and we're trying to address it in a new way," IDF operations officer Lt. Col. Eliezer Toledano told the Los Angeles'Times' Edmund Sanders. "We have to adjust ourselves to the reality today."
While foreign media play up the talk of "non-violent" tactics, Israelis have yet to see a change on the ground. PA  Arabs continue knifing attempts and daily stoning and firebombing attacks against Jewish motorists in Judea and Samaria, with the intention of causing fatalities.
With soccer teams and town squares named after suicide terrorists, PA leaders have an uphill battle, if they mean what they say, to convince the Arab "on the street" to stop using violence because the message they send is a contradictory one. "The Palestinian Authority preaches peace and incites war," points out Itamar Marcus, founder and director of Palestinian Media Watch (PMW).
His Arab media watchdog group has filtered out and translated into English hundreds of examples of two decades of PA incitement to violence and educational program promoting "Jihad" to conquer all of Israel, which the Palestinian Authority considers "Arab Palestine." They have not ceased.
Marcus has noted that PA television constantly delivers a message of hatred of Jews and a Jewish Israel and denials of the right of Israel to exist, as well as of any Jewish connection to the Western Wall (Kotel) and Temple Mount.
"The hour of resurrection will not come until Muslims fight the Jews, and the Muslims kill them. The Muslims will kill the Jews, rejoice!" one Muslim cleric preaches on PA television.  
In a recent speech in Philadelphia, Marcus emphasized the reality in the PA today, despite the "non-violence conference." He quoted from Hitler's Mein Kampf, "If you want adults to be killers, teach the youth hate."