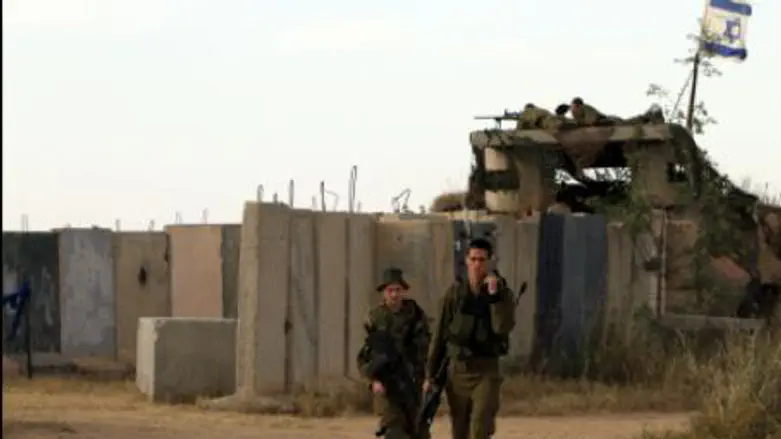 Soldiers patrol the no-go zone
Israel news photo: Flash 90
IDF soldiers found three mines Sunday that had been planted next to the Gaza security barrier. The mines were located during a routine security check and were destroyed in a controlled explosion; no injuries were reported.
IDF spokesmen said the alert soldiers who found the charges had foiled a planned attack. The incident is the third in under three weeks in which IDF soldiers have foiled attempts to plant bombs near the Gaza barrier. Last week, soldiers shot and killed a terrorist as he attempted to plant bombs in northern Gaza.
Terrorists plant bombs along the barrier primarily in an effort to target soldiers manning the structure, which runs between Gaza and the western Negev. In early 2008, terrorists detonated a string of explosives to take down the barrier in southern Gaza, allowing hundreds of thousands of Hamas-run Gaza residents to flood into Egypt.
Recently, residents of Gaza have begun a series of protests demanding an end to the no-go zone around the Gaza barrier - an area on either side of the barrier which only soldiers may enter. They have been joined by several foreign left-wing protestors, who say the small strip of land in the no-go zone should be used for agriculture.
The IDF remains firm in its stance that the zone is critical for allowing soldiers to spot terrorists and prevent them from reaching the barrier itself. Soldiers fired warning shots at a group of protesters on Saturday when they entered the no-go zone and refused to leave. Sources in Gaza later claimed that multiple protestors had been wounded.