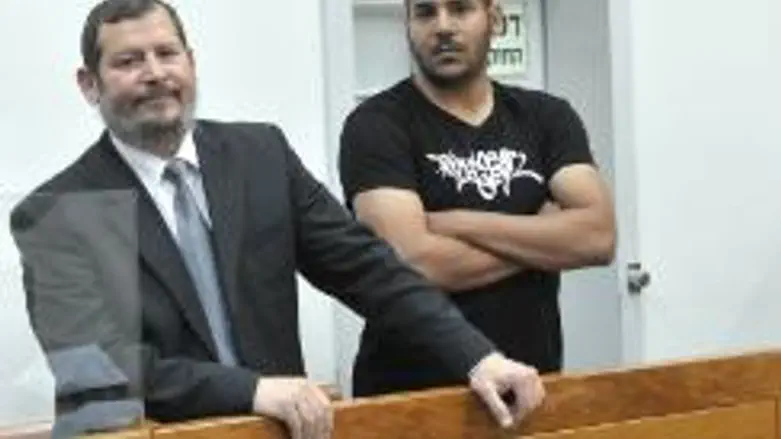 Lupolianski in court
Israel news photo: Flash 90
Uri Lupolianski was arrested Wednesday for allegedly receiving over three million shekels in bribes from the entrepreneurs behind the Holyland housing project in Jerusalem. He is also suspected of money laundering. His remand has been extended for five days.
The courts saw fit to place the former mayor in custody on the same day that it decided to let Anat Kam, who is charged with espionage, to remain under house arrest.
Police think some of the money was paid when he served as chairman of the city's Planning and Construction Committee, and some when he was already mayor. The vast majority of the money did not go into his own pocket but to the Yad Sarah charity, which lends medical equipment to the needy and infirm, and which Lupolianski founded.
Investigators suspect that Lupolianski received 1.4 million shekels for Yad Sarah from the Holyland investors before 1999, and another 1.4 million between 2000 and 2006. In addition, they believe he received $30,000 for use by political activists who worked for him in the municipal elections campaign of 2003, which he won.
In 2005 he allegedly received 100,000 shekels as a contribution to a Torah study school for adults ('kollel') which his son managed.
Meanwhile, there is tense anticipation of the return to Israel of another former Jerusalem Mayor – Ehud Olmert – who was also a Prime Minister. Olmert is expected to arrive in Israel Wednesday night after cutting short his stay abroad in Spain. It is not known whether police intend to arrest him, but he, too, is a suspect in the Holyland affair.
The Rishon LeTzion Magistrates' Court agreed to the police's request Tuesday and extended the remand of Meir Rabin, one of six suspects in the Holyland affair, by ten days. On Wednesday, police asked to extend the remand of five other suspects by nine days.