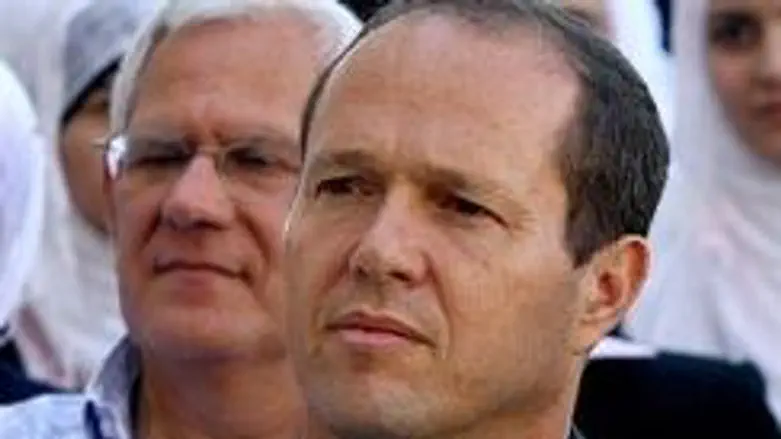 Mayor Nir Barkat
Israel news photo: file
Chief Prosecutor Moshe Lador demanded in a letter to Jerusalem Mayor Nir Barkat that Barkat enforce the court-issued orders to evict the Jewish residents of Bet Yehonatan and seal off the building. Bet Yehonatan is a building which is located inside the neighborhood of Shiloach (Silwan) in eastern Jerusalem, most of whose residents are Arabs.
"I was sorry to hear that even at this date, the Jerusalem municipality has not yet taken care that court orders – at all levels, including four times in the Supreme Court – be honored and carried out in this matter," Lador wrote Barkat. "Bet Yehonatan was built, from start to finish, with a resounding disrespect for planning and construction orders, by people who will not reveal their identity and who send others to maintain presence at the site by living there."
Lador added that "there is no way to justify the involvement of political elements and others who are not authorized to deal with the matter, in attempts to prevent the necessary enforcement measures by direct and indirect means."
Bet Yehonatan was built by the Ateret Kohanim group.
MK Dr. Michael Ben-Ari reacted to Lador's letter Thursday with a letter of his own, to Justice Minister Yaakov Ne'eman. Ben-Ari asked Ne'eman to "set boundaries" before Lador and to summon him to a meeting in order to clarify the matter at hand. "In the same area where Bet Yehonatan stands there are 216 orders of demolition waiting to be carried out," he wrote.
"These are 216 illegally built Arab houses that various courts have determined must be razed," the National Union legislator noted. "Could the Chief Prosecutor be carrying out a racist policy? Why does the Prosecutor not order – with at least the same determination with which he sent the letter to Barkat – that the law be applied to the illegal construction gone wild at the King's Garden and Kfar HaShiloach?"