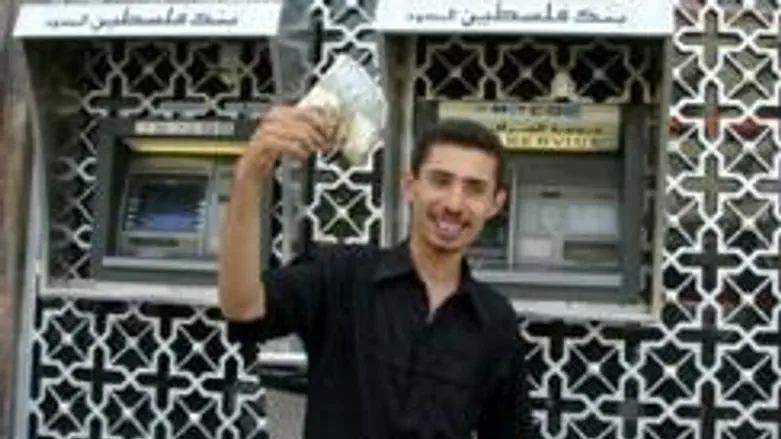 Hamas employee gets salary in Gaza
Israel news photo: Flash 90
The United States Treasury has taken all but one member of Hamas off the international list of terrorists, thus enabling funds from the European Union to enter Hamas-controlled Gaza.
It is an open secret that large sums of money from the EU flow into Gaza in the guise of humanitarian aid and salaries for officials, but are actually funneled into the coffers of Hamas, which controls Gaza with an iron grip. This method of transferring funds into terrorists' hands could have been blocked by an international lawsuit, but according to journalist Avi Tarango, the United States Treasury has made this impossible by removing all but one Hamas man – Deputy Chairman of the Political Bureau, Musa Abu Marzouk – from the list of international terrorists.
The updated terrorist list, published last week, takes up 443 pages. However, according to Tarango, who went over the list, none of the tens of thousands of people who form Hamas is mentioned – other than Abu Marzuk, who resides in Damascus. The terrorist list is meant for distribution in the world banking system, where the transfer of funds to anyone on the list is prohibited.
Cleared for Funding
Abu Marzouk is listed as having been born in Gaza on February 9, 1951, and as bearing an Egyptian passport with the number 92/664. "While branches of Hamas appear in the list under different names, such as 'The Students of Ayash,' 'The Muslim Brotherhood in Gaza,' 'The Iz A-Din El-Kassam Battalions,' the rest of Hamas's men do not appear on the list at all," Tarango said.
"Musa Abu-Marzouk's presence on the list means that whoever tries to transfer money to him personally will be rejected by the world banking system and be accused of funding terrorism, but the transfer of funds to any other Hamas man will not arouse suspicion," he explained.
According to published reports and other sources, the journalist said, the EU sends millions of Euros every month to cover the salaries of 77,000 employees of the Palestinian Authority and about 70,000 recipients of welfare aid in Gaza.

 "EU laws define Hamas as a terror organization and therefore the EU people need to verify on a name-by-name basis that none of the people receiving salaries and support is a terrorist," Tarango said. "This is done by the EU's cash transfer mechanism, PEGASE, which verifies that none of the recipients of salaries are members of Hamas's police force or activists of the military wing of Hamas, by comparing the names as received from the PA treasury department with the list of international terror activists. However, since the newly-updated list contains no Hamas officials except for Marzouk, the European check will find nothing and the funds for Gaza salaries will be transferred in whole to the Gaza banks."