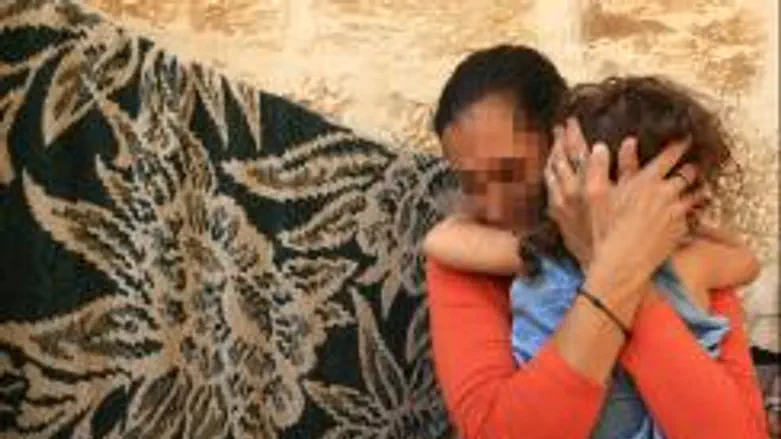 A woman rescued by Yad L'Achim in 2008
Israel news photo: Flash 90
"Where are you?" demanded the brother-in-law of 29-year-old Oshrit Ohana suspiciously, just seconds before the taxi in which she and her children were racing to the Gaza security barrier managed to reach the Erez border crossing terminal. "Return home immediately!"
Mahmoud, age 7, Sali, age 6, Abdel Rahman, 5 and Asma, almost 2 years old, had accompanied their mother in a desperate bid for freedom after she had quietly decided months earlier to leave her Arab husband behind.
The children had no idea, of course. They thought they were going shopping, which is what Ohana had told her husband's brother. He had been watching her carefully for weeks and had already threatened to kill her if she tried to run away. His brother Abdullah, Ohana's husband, was sitting in an Egyptian jail.
The young woman, originally a resident of Ashdod, had met Abdullah through friends in the city. She married her Muslim boyfriend and soon after, the two moved to Gaza seven years ago. Abdullah was not wealthy, and ended up working for smugglers in the tunnels underneath the border city of Rafiah between Gaza and Egypt. Eventually, she decided it had to end, but it took years to figure out how. Her chance to leave came finally after Abdullah was arrested in Egypt.
Dressed in her hijab – the traditional Muslim woman's head covering – she told her brother-in-law she was escorting her sister-in-law to school before going shopping, and would later return to the apartment they all shared together.
But then the plan went into action: Ohana had previously contacted her family in Ashdod by email, and they had been in touch with the Yad L'Achim anti-missionary and outreach organization. The group helps rescue Jewish women from unwanted marriages with Arabs – and they arranged for people in place, ready to help Ohana.
The plan, coordinated by text messages, called for the young woman to bring her four children to the Erez Crossing, where IDF officials would let her through to the Israeli side. Yad L'Achim would find a safe place for her to live, where Abdullah would never find her, and would help her financially until she could get back on her feet on her own.
Not so simple for a young woman in Gaza speaking Arabic with a Hebrew accent, to explain why she needed to take four children to the Erez Crossing, quickly. "I asked how much it costs to get to the Erez crossing," she related. "He said, ' It's 70 shekels.' I said, 'No. Take 100 shekels, and hurry.' I tried to speak as little as possible, so he wouldn't notice my accent."
Cutting through the region, Ohana said the taxi had to pass through several checkpoints manned by Hamas terrorists. "Each time, I kept myself covered modestly and tried to speak as little Arabic as possible," she said, "so they wouldn't notice my accent."
The Hamas officials let her through, all the way across the region, and even at the Erez Crossing. However, when she got to the other side, Israeli security officials were cautious, even though the commander had been notified that she would be arriving. Yad L'Achim had already been in touch with the Defense Ministry and Shas party chairman and Interior Minister Eli Yishai to make sure everything would go off without a hitch.
She was questioned by Israeli soldiers to make sure she was not a suicide bomber or a spy. Still, one IDF officer told an official from Yad L'Achim, "I donate to your organization regularly and I feel that it is in that merit that I was privileged to be able to participate in this rescue today."
According to Yad L'Achim director Rabbi Shalom Dov Lipshitz, there are still "hundreds" of other Israeli women caught in similar situations, "some in Gaza, others in Shechem or Tulkarm…and there are even some in neighboring Arab countries." 
Ohana and her children, meanwhile, celebrated their new-found freedom that night with her family. Her little ones will soon be given Hebrew names, and together they will all start a new life in Israel.