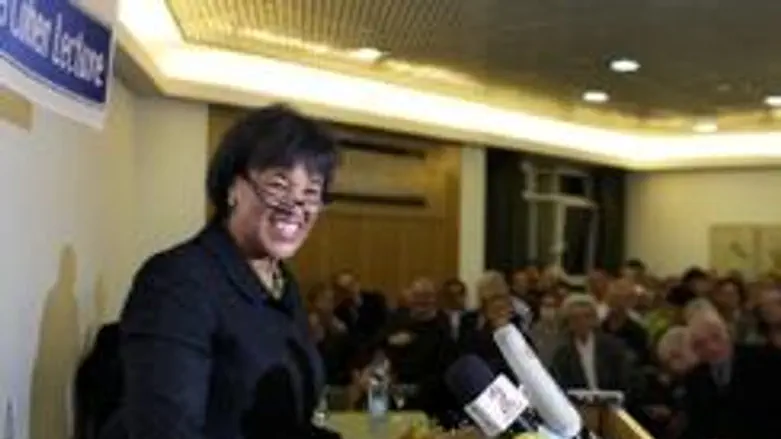 Lady Scotland
Israel News Photo: Flash 90
United Kingdom Attorney General, Baroness Patricia Scotland, suggested that British law could be amended to give her office the power to veto arrest warrants for foreign political figures accused of war crimes.  
Baroness Scotland's statement was made while delivering the annual Lionel Cohen Lecture of the Law Faculty of Hebrew University in Jerusalem Tuesday night in answer to a question concerning the recent British warrant for the arrest of Israeli Opposition leader Knesset Member Tzipi Livni. An Israeli military delegation also cancelled a trip planned for this week upon being told by the British army that it could not guarantee preventing their possible arrests.
The lecture, entitled "Lawfare: Time for Rules of Engagement," dealt with the dilemmas involved in the response of governments to the misuse of the courts for political ends. Baroness Scotland explained that the government must retain the principle of giving citizens access to the law, but must find a way to prevent abuse of this access as a politically motivated tactic. Britain also cannot give up the right to prosecute real war criminals from other countries so as not to provide them with safe haven.
Photo: Human Rights Court  The European Convention on Human Rights has been incorporated into British law, and this adds another complication. Her ministry wants to find a way to be effective against political arrest warrants while complying with the ECHR, which led to the idea of veto power for the Attorney General .
With regard to the war against terror, the Baroness noted the delicate balances that must be struck between guarding individual rights and public security, between court and executive powers, between adhering to abstract principles and the need for pragmatism.
The courts, in her opinion, should defer to the executive branch in areas such as national security where the latter have responsibility and expertise. Respecting the rule of law ensures the core values of democracy and staying within the circle of justice. Former Israeli Chief Justice Barak, she added, wrote that it mandates fighting terror with one hand behind the back.
Chief Justice Dorit Beinisch, Justice Edna Arbel, the British ambassador to Israel and other dignitaries attended the lecture before a packed audience. Baroness Scotland gave special attention to the students present, telling them that the future of democracy is in their hands.
Attorney general since 2007, the Baroness is the first woman to hold that position in the United Kingdom and is known for her holistic approach in dealing with domestic violence, support for human rights, creation of a youth network and expansion of pro bono legal services. She stated firmly that she believes that law is about seeing that justice is served.
She engaged the audience when relating how when growing up in England, she lived next door to a synagogue, joined their Jewish youth group and became its "Shabbos goy" [term for non-Jew who does tasks forbidden to Jews on the Sabbath].