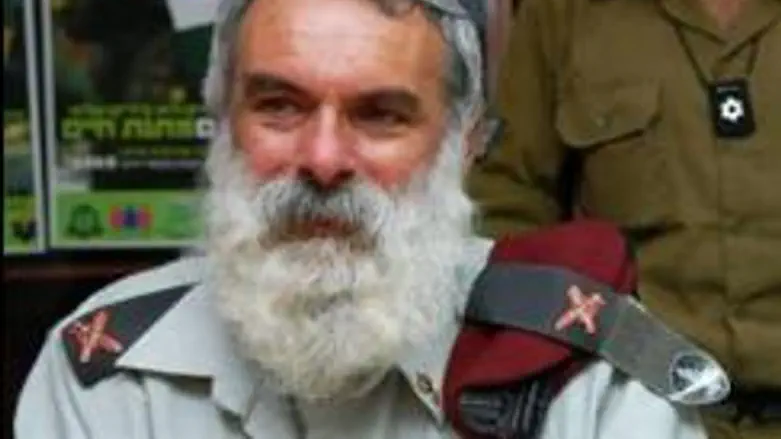 IDF Chief Rabbi Avi Ronsky
Israel newsphoto: Flash 90
Defense Minister Ehud Barak has taken the unprecedented step of not renewing the appointment of Rabbi Avi Ronsky as the IDF's Chief Rabbi. IDF Chief of Staff Gabi Ashkenazi accepted the Defense Minster's decision despite his known respect for Rabbi Ronsky, military sources told Arutz 7. 
The refusal to renew the appointment of a Chief Rabbi or Chief of Staff follows by four years the equally unprecedented move by former Prime Minister Ariel Sharon to refuse to renew the term of IDF Chief of Staff Moshe Ya'alon because of his doubts over the policy of destroying Jewish communities in the Gaza area and withdrawing the military.
Rabbi Ronksy will have served in his position for four years when he leaves office in the summer. Previous chief rabbis of the IDF served for more than four years, and their terms were renewed until they stepped down voluntarily. Chief Rabbi Ronsky succeeded Chief Rabbi Yisrael Weiss, who served for six years. Former IDF Chief Rabbi Mordechai Piron served for more than a decade.
Defense Minister Barak, who also heads the Labor party, has been at odds with Rabbi Ronsky several times and recently prevented him from speaking at several forums, including at a meeting of Knesset Members and rabbis on the first anniversary of Operation Cast Lead counterterrorist campaign in Gaza.
Rabbi Ronsky also was prohibited from being interviewed by media during the recent controversy concerning Barak's ouster of the Har Brachah yeshiva from the Hesder program that combines service in the army with Torah study.
Former Chief of Staff Dan Halutz, an avowed secular Jew, appointed Rabbi Ronsky as chief rabbi because of his trust that he would re-instill soldiers' faith in the IDF after the expulsions of Jews in 2005. One IDF officer told Arutz 7, "Rabbi Ronsky brought about a revolution in the military rabbinate, involved Torah students with their brigades and went into the field with combat soldiers."
Rabbi Ronsky fought in the Yom Kippur War, an experience that brought him closer to Torah. He was responsible for encouraging the IDF to build separate swimming pools for the increasing number of religious officers, a move that irritated many secular elements in the military as well as in the political world.
He founded the national religious yeshiva in Itamar, in northern Samaria, which he still heads.
Two probable candidates to succeed him are Rabbi Duki Ben-Artzi, a combat pilot, and Rabbi Rafi Peretz, who heads the pre-army Torah academy (mechina) in Yated, which was part of the destroyed Atzmona community in Gush Katif.