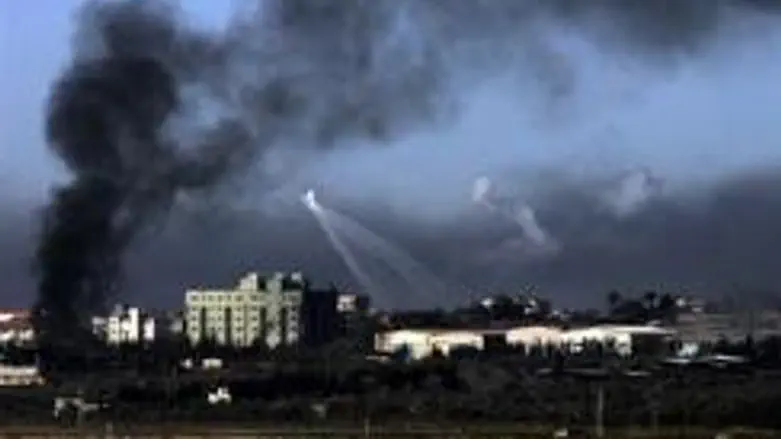 IAF hits tunnel in Rafiah (archive)
Israel news photo: (Flash 90)
The Israel Air Force carried out an air strike against terrorist operations in Gaza overnight in retaliation for a Kassam rocket fired at the western Negev on Saturday. The rocket exploded in the city of Sderot, according to the IDF Spokesman's Office, but caused no injuries or damage.
In response, IAF fighter jets targeted and identified hitting two weapons factories in the northern and central regions of Gaza early Sunday. They also struck one smuggling tunnel located in the area of Rafiah, along Gaza's southern border with Egypt. All pilots returned to base safely.
The Qatar-based Aljazeera news network reported that the IAF carried out four attacks during the night.
The air strikes were carried out despite an announcement Saturday by Hamas "Interior Minister" Fathi Hamad that the terror organizations had cut a deal with allied groups to temporarily halt the rocket attacks. Hamad told reporters at a news conference in Gaza the decision had been made in order to give people time to "rebuild" following the IDF's counterrorist Operation Cast Lead.
"The IDF will not tolerate any attacks by terror organizations against Israel and its citizens," said the IDF in a statement.
Nearly 270 rockets and mortar shells have been fired at Israel since the end of last winter's counterterrorist operation on January 18. This is in comparison to more than 3,300 rockets and mortars fired in the year before the IDF carried out the operation, the IDF spokesman pointed out.
In the past month, Hamas terrorists have again slowly begun increasing the number of rocket attacks on Israel, with approximately 15 rockets and mortar shells fired to date.