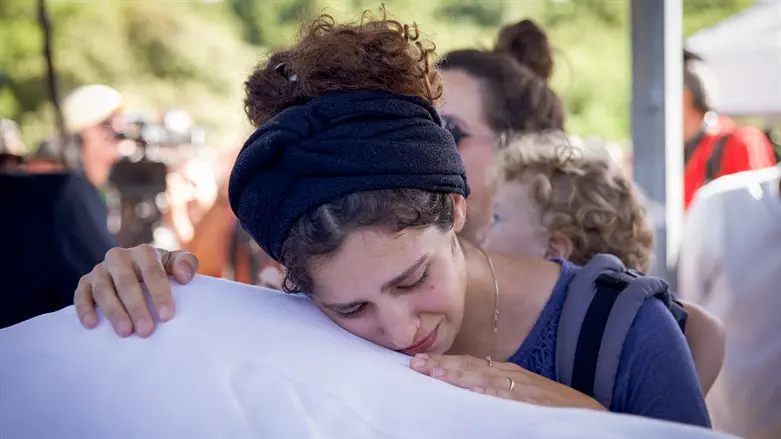 Meir Tamari's widow, Tal, embraces her husbands body during the funeral
Shir Torem/Flash90
Meir Tamari, Hy"d who was murdered on Tuesday in a shooting attack near Hermesh in northern Samaria, was laid to rest on Wednesday afternoon in the Shaked cemetery in Samaria, accompanied by friends, family, ministers, and Knesset members.
Samaria Regional Council Cheif Yossi Dagan eulogized the victim. "Wherever there is no settlement, there is terrorism. We will increase settlement, both to honor G-d and to strengthen the state of Israel and to enhance its security."
"We cry out to the Prime Minister, the Defense Minister, and the ministers of the government: this murder could have been prevented. Why did you close the checkpoints? Why didn't you initiate a military campaign against the Palestinian Terror Authority? We demand answers. Jewish blood can not be cheap."
Rabbi Shmuel Eliyahu, the Chief Rabbi of Safed, eulogized and emphasized: "The person who lifted his hand to kill Meir, lifted his hand against the One who declared that the world shall be. We all, all of the Jewish people in Israel and around the world, are with the grieving family."
Roni Mizrachi, the chairman of the village of Hermesh, where the victim resided, told Radio 103FM: "They are a young couple, they lived here for a few years. He was a charming young man, a contractor who would wholeheartedly help whoever had needs. It's such a shame we lost such a beloved man."
Yossi Dagan speaks as Tal Tamari embraces her husband
Photo: Roi Hadi
"This is a life-altering event," Iris Boker, a neighbor of Tamari's, told Reshet Bet. "We are here with Tal, embracing her, the family, and the towns around us. This is our home. We will continue together and support each other and the family. There is tension in the air. It's a very hard feeling to see this military checkpost empty."
Iris Shok, a friend, and neighbor of Tamari, told Galei Zahal, "It is a huge shock, a great blow to everyone and to his young children. Yesterday his little daughter learned to recite the difficult news. He was a very good person, humble and solid, it's hard to talk about him in past tense."
Tamari came to Hermesh close to five years ago with his wife Tal, who grew up in the town. The couple has two children, ages one and three, and recently finished building their home in Hermesh.
Footage from security cameras shows the terrorists' vehicle passing Tamari's vehicle, and moving in close to it just before the terrorists opened fire at Tamari and drove off to escape the scene.
Initial investigations show that the terrorists fired seven bullets at Tamari from an M-16 before escaping the scene in their vehicle. It is estimated that they drove northwards, towards Jenin.
Tamari's wife is the step-daughter of Binyamin Horgan, who lost his first wife, Esther, in a December 2020 terror attack. Binyamin Horgan later remarried Tal Tamari's mother.