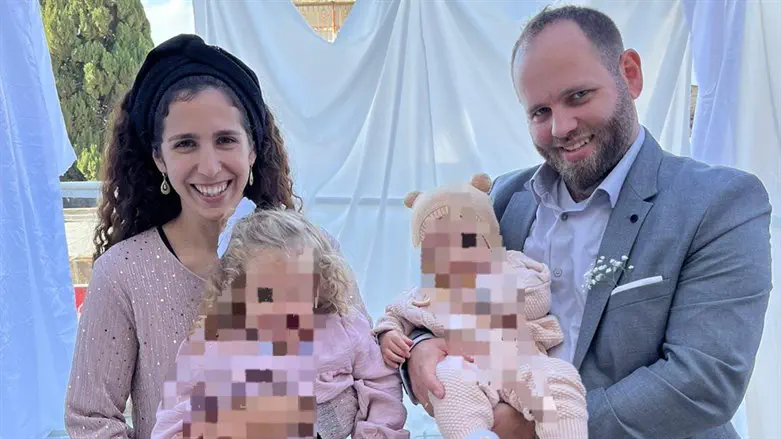 Meir Tamari with his wife and children
Courtesy of the family
Meir Tamari, who was killed Tuesday afternoon in a shooting attack, is a relative of terror victim Esther Horgan, who was murdered in December 2020.
Horgan had been jogging in the forest near her home when terrorist Muhammad Maruh Kabh brutally murdered her by bludgeoning her head with a rock. She is survived by her husband and six children.
Tamari's mother-in-law is married to Binyamin Horgan, Esther Horgan's widower. Binyamin is now remarried.
Tamari would have celebrated his 32nd birthday on Wednesday. He is survived by his wife, Tal, and his two children, ages one and three.
Tamari moved to Hermesh four years ago, after marrying his wife, who grew up in the town. Just recently, the couple finished building their home.
Initial investigations show that a passing car with two terrorists in it passed Tamari's car and the terrorists fired an estimated seven bullets at him with an M16.
National Security Minister Itamar Ben Gvir (Otzma Yehudit) responded to the terror attack by saying, "The heart is horrified by the shocking murder of Meir Tamari, a dear Jew who was murdered just for being a Jew in the Land of Israel, by a vile terrorist who deserves death."
"We will continue to do everything to fight terrorism and bring the terrorists to justice and I will do everything to pass the law for the death penalty for terrorists so that the terrorists receive the only punishment they deserve. I would like to send my condolences to his dear family, the people of Israel are with you."
Israeli Prime Minister Benjamin Netanyahu said, "I send my condolences from the bottom of my heart to the family of the late Meir Tamari, who was murdered today in a shooting attack near the village of Hermesh where he lived. God will avenge his death."
"Our forces are now pursuing the terrorists to settle a score with them - and it will be settled soon. As we have reached every terrorist to date and settled our score with him - we will do the same this time."