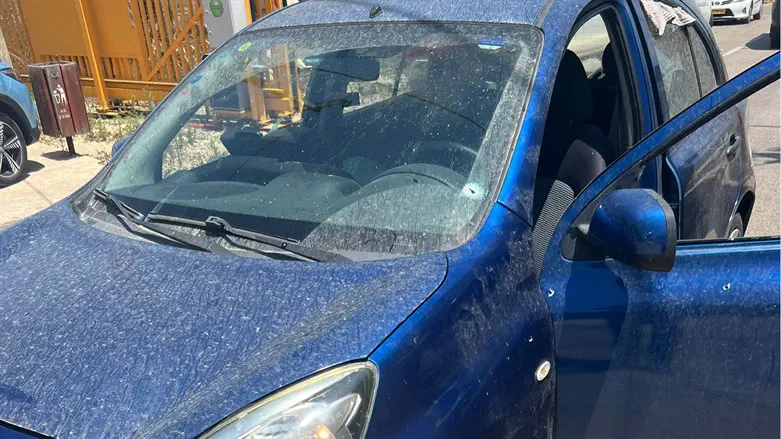 The car targeted in the attack
Courtesy
An Israeli man was fatally wounded in a terrorist shooting attack in northwestern Samaria Tuesday morning.
The attack occurred just outside of the Israeli town of Hermesh in Samaria, as a terrorist passing by in a car opened fire on an Israeli vehicle and a guard post.
Emergency first responders have been dispatched to the scene and are treating the victim. A medical evacuation helicopter is en route to airlift the victim to a hospital.
According to a statement by MDA, the man wounded in the attack was conscious when EMTs reached him.
Security forces have been deployed to the area and are conducting searches for perpetrator.
An army spokesperson confirmed that the victim in the attack is a civilian.
"Following the initial report, an Israeli civilian who was injured by live fire arrived at the entrance of the community of Hermesh a short while ago. The civilian received initial medical treatment at the scene and was later evacuated to a hospital. IDF soldiers began pursuing the terrorists and checkpoints have been set up in the area."
After being evacuated to the hospital, the victim succumbed to his wounds.
"It was a serious attack, a dead Jew, a resident of Hermesh was murdered by terrorists who are financed by the Palestinian Authority," said Shlomo Ne'eman, Gush Etzion Regional Council Mayor, and Chairman of the Yesha Council.
"We share in the sorrow of the family and his relatives. Unfortunately, even with this terrible murder, the writing was on the wall. There have been dozens of shooting terrorist attacks over the past month, especially in northern Samaria."
"This is not about isolated shooting attacks, but a wave of terrorism that affects the citizens of the State of Israel almost daily. We are again demanding that the security establishment and the government prioritize the safety of the residents of Judea and Samaria. The immediate answer is to deal with the terrorists heavy-handedly and carry out an operation in order to confiscate their weapons until the PA's stockpiles have been depleted. Our country is at war. And we expect a real war against a brutal enemy."