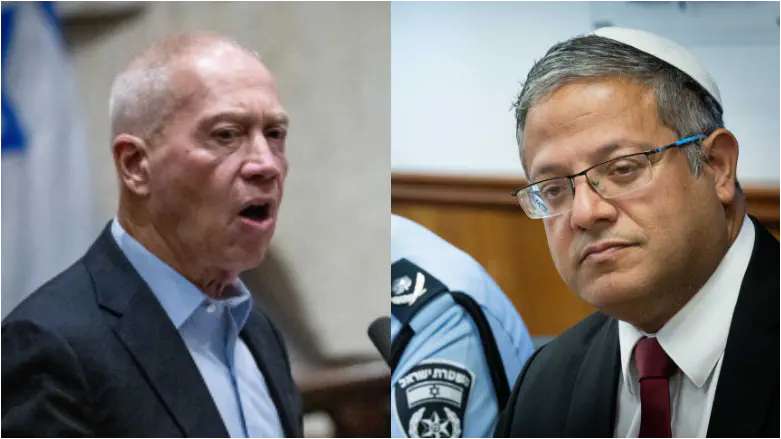 Ben-Gvir and Gallant
Yoanatan Sindel/Flash 90
The security cabinet concluded an emergency meeting this evening (Tuesday) following the murder of Shai Silas Nigreker and his son Aviad Nir in a shooting attack in Huwara on Saturday and the murder of Batsheva Nigri in another shooting attack near Hebron yesterday.
At the meeting, which was held in the Prime Minister's office in Jerusalem, a series of decisions were made to strike at terrorists and those who dispatch them to commit attacks. In addition, the Cabinet authorized the Prime Minister and the Defense Minister to act on these decisions.
During the meeting, Defense Minister Yoav Gallant addressed the demand of National Security Minister Itamar Ben-Gvir to adopt strict measures such as the imposition of closures on Palestinian Authority towns and cities. "There is a danger of friction and we need to pay attention to it. Once it was a few dozen and today it is already hundreds. One event leads to another," Gallant said.
Ben-Gvir responded that he felt "we're living in a fantasy movie. People were murdered, a mother in front of her daughter, a few days ago a father and his son [were also murdered] and you keep talking about the danger of friction, the danger of nationalist crime. Have we gone crazy? I'm starting to think we're in Switzerland - that's our biggest problem."
"The discussion here is about terrorism. We need to come up with operative measures, what are we doing against terrorism and not deal with nonsense," Ben-Gvir said.
The members of the security cabinet stated that they back the commanders and soldiers of the IDF and the personnel of the security services in their actions against terrorist elements on behalf of the security of the citizens of Israel.