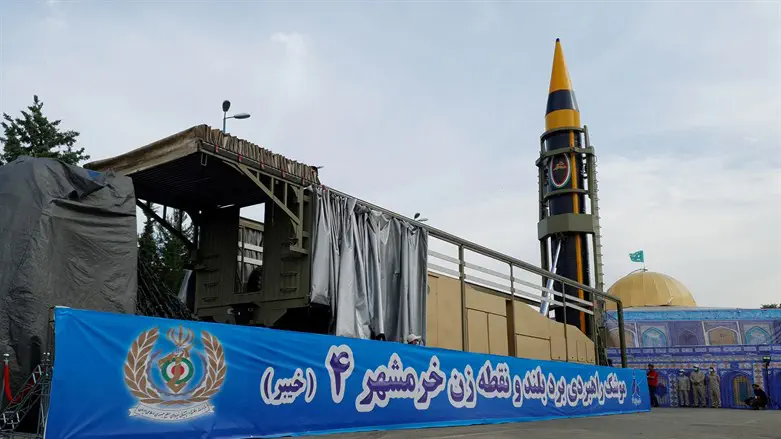 Iranian ballistic missile (archive)
WANA (West Asia News Agency) via REUTERS
The commander of the Aerospace Force of the Islamic Revolutionary Guard Corps, Amir Ali Hajizadeh, said that the range of the "Fateh" missile, which now reaches a range of 1,400 km, will soon be increased.
Speaking at a ceremony in which the missile was unveiled and which was attended by President Ebrahim Raisi, Hajizadeh said that Iran is the fourth country in the world that has developed the technological ability to produce missiles that are capable of changing course on their way to their target.
In light of the maneuverability of the Iranian hypersonic missile, he added, there is currently no anti-aircraft system capable of intercepting it in flight.
He noted that the missile consists of two parts. The first one is 3.6 meters long, and is considered a missile in itself, meaning it has an engine and a combat warhead.
The second part of the missile has the ability to maneuver in the area threatened by the enemy, which is at a distance of hundreds of kilometers from the target, and therefore the enemy will not be able to calculate the flight path of the missile due to its high speed and the change of the trajectory, and the existing anti-missile missiles will miss the target.
Iran often boasts of its military accomplishments, though it is not always possible to say with certainty that it is telling the truth about those accomplishments.
In 2017, the Islamic Republic claimed to have unveiled a domestically manufactured tank which "has the capability to fire missiles and precisely guide them."
Previously, Iran's Revolutionary Guard claimed it had successfully tested a Hormuz 2-type ballistic missile.
Iran has also claimed it is in possession of the "father of all bombs", described as a domestically-made 10-ton bomb with a high destructive power.