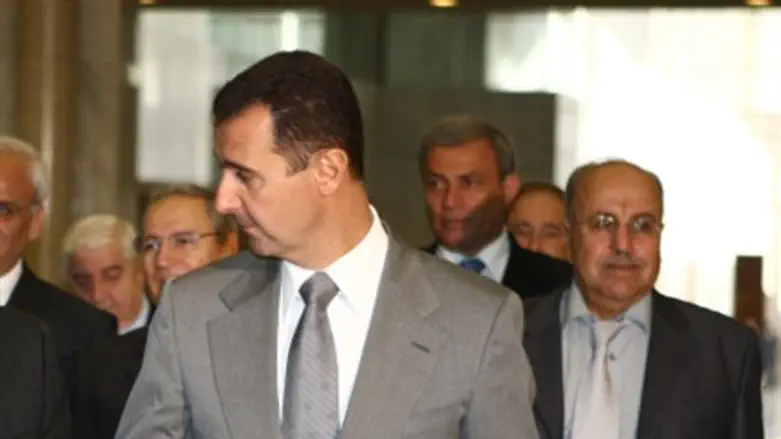 Syrian President Bashar Assad
Israel news photo: Flash 90
The Syrian regime this week fired at least two Iranian-made, short-range ballistic missiles in what appears to be an effort to more precisely target Syrian rebels, two U.S. military officials told CNN on Friday.
According to the officials, the regime used Fateh A-110 missiles which are more accurate than the older Scud variants that Syrian government forces have used in recent weeks.
The Fateh trades range for accuracy. It can travel about 125 miles, while the Scud can go about 185 miles. But the Fateh has a "circular error probable" or - CEP - of 330 feet, while the Scud's CEP is 1,480 feet. CEP is defined as the radius of a circle in which half of a missile's lethal payload falls and is the standard measure of a missile's accuracy.
The U.S. military officials declined to be identified because of the sensitive nature of the information. The Iranian government has not commented on the issue, but in the past it had confirmed sending troops to support President Bashar Al-Assad in his battle against rebels.
Iranian President Mahmoud Ahmadinejad personally sanctioned the dispatch of the experienced officers to ensure that the Assad regime survives the threat to its survival.
Last week, NATO chief Anders Fogh Rasmussen confirmed the Syrian army's use of Scud-type missiles against rebels, saying it was an act of desperation.
"I can confirm that we have detected the launch of Scud-type missiles; we strongly regret that act," Rasmussen said. "I consider it an act of a desperate regime approaching collapse."
CNN reported that the firings of the Iranian Fateh missiles did not reach near Syria's border with Turkey, but the regime's use of ballistic missiles is the reason NATO is planning to send U.S., German and Dutch Patriot missile batteries to Turkish military installations: to protect the southern regions of that NATO ally.
All six Patriot batteries are expected to be in place by the end of January, reported CNN.
A NATO official could not confirm the use of short-range ballistic missiles this week, but said, "The fact that Scud-type missiles were used in Syria emphasizes the need for effective defense protection of our ally Turkey."
"This is why, earlier this month, NATO allies decided to deploy Patriot missiles in Turkey to augment Turkey's air defenses. The deployment, which will start within weeks, is defensive only. Its aim is to deter any threats to and defend and protect the population and territory of Turkey," said the official.
(Arutz Sheva's North American Desk is keeping you updated until the start of Shabbat in New York. The time posted automatically on all Arutz Sheva articles, however, is Israeli time.)