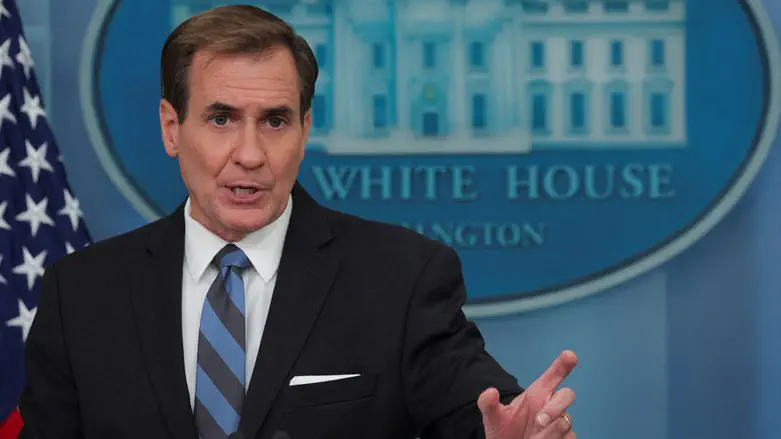 John Kirby
REUTERS/Jim Bourg
White House National Security Council Coordinator for Strategic Communications John Kirby stressed on Wednesday that, despite recent tensions, Israel and the US remain close allies.
Speaking at a press briefing, Kirby was asked about the State Department summoning Israel's Ambassador to the US, Michael Herzog, for a conversation following the Knesset's approval of the law cancelling the Disengagement in northern Samaria.
"Israel remains a strong ally and a deep, deep friend in the region, I'd say even around the world," Kirby replied.
"And the President, in his discussion with Prime Minister Netanyahu the other day over the weekend, made clear that our support for Israel's security will remain ironclad. Nothing is going to change about that. And he has, through his entire public life, been one of Israel's strongest supporters and friends, and that will not change," he added.
At the same time, Kirby noted that Biden "has also said — and he's communicated it publicly and, of course, he's communicated privately — our concerns over these proposals, these proposed judicial reforms. And he has said and he said it again over the weekend that we — that we urge Israeli leaders to seek a compromise as soon as possible, and then that's — that's where we are."
The comments follow several incidents in which the US has criticized Israel in recent days, in addition to the summoning of Ambassador Herzog.
On Tuesday, deputy State Department spokesman Vedant Patel condemned the Knesset's passage of the amendment repealing the Disengagement from northern Samaria and allowing Jews to return to the four communities which were destroyed there in 2005.
"The United States is extremely troubled that the Israeli Knesset has passed legislation rescinding important parts of the 2005 Disengagement Law, including the prohibition on establishing settlements in the northern West Bank," Patel said.
Patel claimed that Homesh, one of the four communities is "illegal" even under Israeli law because it was "built on private Palestinian land."
He called the move "particularly provocative and counterproductive to efforts for restoring calm" and said that the administration "strongly urges Israel to refrain from allowing the return of settlers to the area covered by the legislation."
Patel also condemned Finance Mnister Bezalel Smotrich's remarks in Paris, where Smotrich said that "there is no such thing as a Palestinian people, saying the Biden administration found the Finance Minister's remarks "to not only be inaccurate but also deeply concerning and dangerous."
"The Palestinians have a rich history and culture," Patel said.