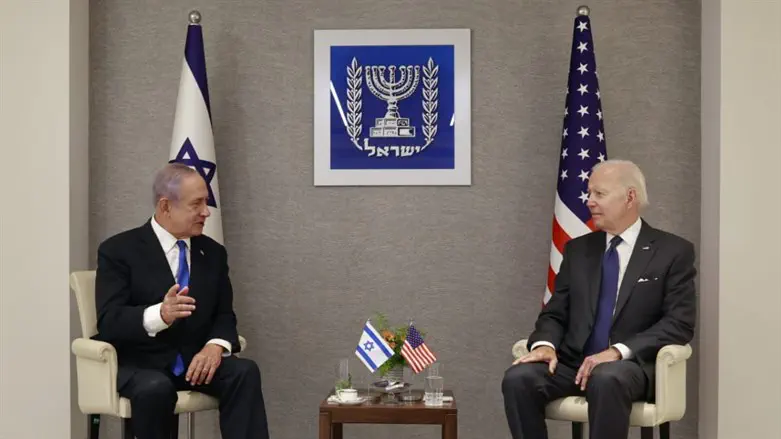 Biden and Netanyahu
Raanan Cohen
Prime Minister Benjamin Netanyahu spoke on Sunday evening with US President Joe Biden and updated him on the terrorist attack that took place earlier in the day in Huwara, in which an Israeli citizen was wounded.
The Prime Minister told President Biden that Israel would continue to take action everywhere against terrorists and the architects of terrorism.
The conversation focused on the Iranian threat and expanding the circle of peace.
Regarding the judicial reform, Prime Minister Netanyahu told President Biden that Israel was, and will remain, a strong and vibrant democracy.
Prime Minister Netanyahu thanked President Biden for his commitment to Israel's security.
The White House, in a readout of the conversation, said that Biden "welcomed the March 19 meeting in Sharm El Sheikh, Egypt, between senior political and security officials from Israel, the Palestinian Authority, Egypt, Jordan, and the United States with an aim to reduce tensions."
"The President reinforced the need for all sides to take urgent, collaborative steps to enhance security coordination, condemn all acts of terrorism, and maintain the viability of a two-state solution," the White House statement added.
"The President also underscored his belief that democratic values have always been, and must remain, a hallmark of the US-Israel relationship, that democratic societies are strengthened by genuine checks and balances, and that fundamental changes should be pursued with the broadest possible base of popular support."
On the judicial reform, the White House statement said that President Biden "offered support for efforts underway to forge a compromise on proposed judicial reforms consistent with those core principles."
"The two leaders also discussed tensions and violence in the West Bank. Finally, President Biden reiterated his unwavering commitment to Israel's security and the ongoing cooperation between our national security teams, including to counter all threats posed by Iran. Both leaders agreed to stay in regular contact over the coming weeks," the statement concluded.
Biden recently weighed in on the judicial reforms being promoted in Israel, telling Thomas Friedman of The New York Times, "The genius of American democracy and Israeli democracy is that they are both built on strong institutions, on checks and balances, on an independent judiciary."
"Building consensus for fundamental changes is really important to ensure that the people buy into them so they can be sustained," the President added.
Vice President Kamala Harris later commented on the judicial reform as well, telling Politico, "As the president has said, an independent judiciary is foundational for a democracy. And I think that there is no question that we need to make sure that that is supported in terms of what we talk about [and] in terms of our values."
US Ambassador to Israel Tom Nides, meanwhile, recently called on Israeli leaders to "pump the brakes" on the judicial reform.
On the Republican side, Senate Minority Leader Mitch McConnell (R-KY) told Axios in an interview that the Israeli government's judicial reform is an internal Israeli matter and the US should not intervene.