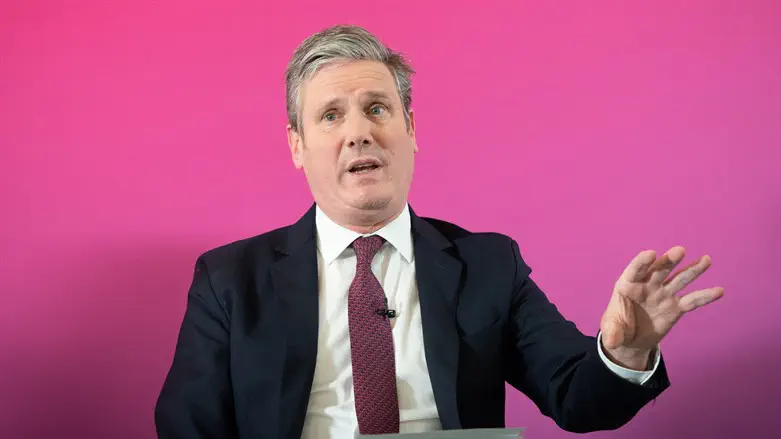 Labour leader Keir Starmer
Reuters
A senior lawyer who led the inquiry into internal antisemitism within the British Labour Party slammed party members for continuing to exploit the report's findings to attack opposing groups within Labour.
Lawyer Martin Forde's inquiry concluded that Labour's structure and policies during the tenure of former leader Jeremy Corbyn were frought with problems, BBC News reported.
It also noted that groups within Labour were using the reports of antisemitism to attack each other.
In February, the British Equality and Human Rights Commission ended the monitoring of Labour, saying leader Keir Starmer had made progress combating antisemitism in the party after numerous scandals under previous leader Corbyn.
But on Monday, during a virtual event hosted by Compass think tank, Forde blamed "rival factions" in the party for continuing to "cherry-pick" parts of his report to smear each other, and criticized leaders for not making serious changes to party policies when it comes to discrimination, as recommended in his findings.
Responding to Labour leader Keir Starmer's pledge in February to implement "zero tolerance of antisemitism, of racism, of discrimination of any kind," Forde said that he feels "slightly irritated by zero tolerance as a phrase."
"We've heard it from the Met [London's Metropolitan Police] and we've heard it from various politicians," he said. "But you can't implement zero tolerance, it seems to me, unless you're policing things fairly rigorously and you've got transparent systems in place."
During the conference, there was also a discussion about why the recommendation in Forde's report for an independent directorate to oversee Labour disciplinary investigations had been rejected by the party's senior leadership.
A Labour spokesperson told the BBC that the party had initiated a new complaints mechanism that made sure issues were addressed "fairly and impartially."
"The party did not wait for the publication of the Forde Report to take action, and we have already implemented many of its recommendations. A working group of Labour's National Executive Committee has met regularly to determine how best to take forward remaining recommendations," they said.