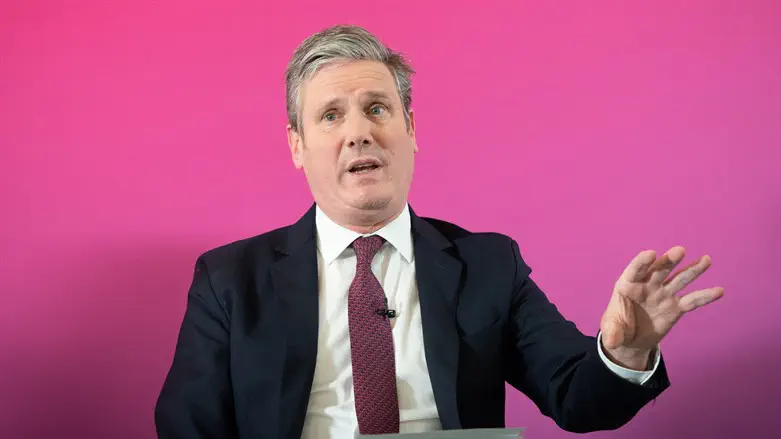 Labour leader Keir Starmer
Reuters
The United Kingdom's Labour Party is no longer being monitored by the Equality and Human Rights Commission, as the public watchdog announced Wednesday that the party had taken sufficient measures to root out an antisemitism problem that plagued it for years under former leader Jeremy Corbyn.
Corbyn's successor Keir Starmer hailed the announcement at a news conference on Wednesday, calling it an "important moment in the history of the Labour Party" and adding that Corbyn will not be allowed to run for office under the Labour banner moving forward.
"I don't see today's announcement as the end of the road," Starmer said. "I see it as a signpost that we are heading in the right direction."
The human rights commission had been scrutinizing the party since releasing a report in 2020 that said Corbyn had allowed antisemitic rhetoric to persist under his leadership and that the party had not properly dealt with complaints from members hit with antisemitic abuse.
Several Jewish lawmakers left the party during Corbyn's tenure from 2015-2020 in protest, as the scandal made national headlines and became an issue in the 2020 national election. Starmer, who unlike Corbyn is pro-Israel, has made winning back the trust of Jewish Labour voters a top priority.
On Wednesday, the human rights commission said Starmer had sufficiently improved the party's methods of handling complaints of antisemitism and for punishing party members who expressed antisemitic views. In 2021, Starmer — who is married to a Jewish woman and is raising his two children with Jewish tradition — instituted new measures to review complaints, involving an independent committee.
Ruth Smeeth, who left the party after getting hit with antisemitic abuse from Corbyn supporters, said Wednesday that the EHRC announcement "demonstrates quite how far the Labour party has come under Keir's leadership."
"Jews can once again call Labour their natural home and have no concerns about voting for it," said Adam Langleben, the national secretary for the Jewish Labour Movement, a group of Jewish Labour supporters across the United Kingdom.