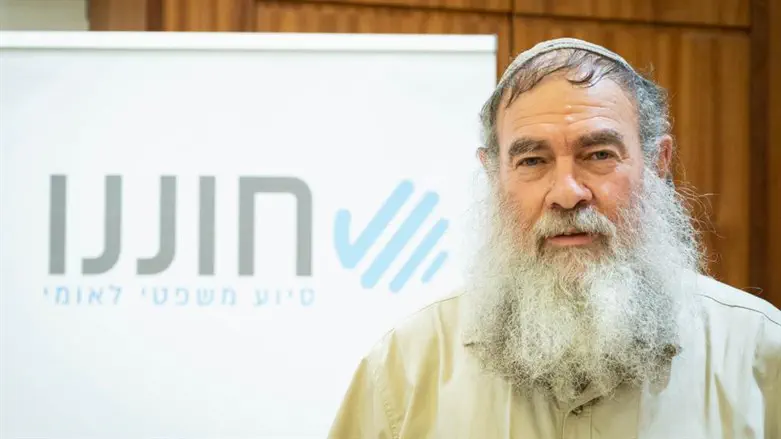 Shmuel Meidad
Honenu
Shmuel Meidad, the director of the human rights organization Honenu, has appealed to Defense Minister Yoav Gallant to permit 17-year-old Tzadok Hacohen, currently under administrative arrest following Gallant's own signed order, to attend the brit milah ceremony of his young brother, due to be held on Thursday.
Meidad begged Gallant not to perpetuate the persecutory policies of some of his predecessors, notably Benny Gantz. "Mr. Gallant, the brit milah of the younger brother of this administrative detainee is due to be held within a very short time," he wrote. "It's not yet too late to rectify the unfortunate decision made not to allow him to participate.
"The right of this young teenager who has been arrested and imprisoned without trial, to participate in a family celebration following the birth of his younger brother is a basic humanitarian right. I remind you that you were sent to serve as Defense Minister by voters from the nationalist camp," Meidad added.
"Specifically during these days when terrorism is once again rearing its head, one should seek to encourage rather than harm the Jewish population of Judea and Samaria. I appeal to you and ask you to allow the detainee to participate in his family celebration. Do not become confused between friend and foe."
Two weeks ago, Minister Gallant signed on the administrative detentions of two Jews from Samaria who are suspected of involvement in an act of arson in the Arab village of Huwara. One, David Hai Hasdai, is a married father of two, and the other, Tzadok Hacohen, is just 17 years old. The two had already been arrested prior to Gallant's order, which he signed literally moments after a Jerusalem District Court Judge ruled that they were to be released that day.
In response, 50 members of the coalition, including many ministers and members of all the parties in government, penned a letter to Gallant, demanding that he release the two, along with another two Jews who have been under administrative detention for over three months after the previous Defense Minister, Benny Gantz, signed orders to hold them indefinitely without trial (orders which Gallant renewed).
In their letter, the coalition members pointed out that Gallant had earned for the government "the dubious title of the government that has placed the largest number of Jewish residents of Judea and Samaria in administrative detention in the last 30 years."
Gallant, however, rebuffed the demands, claiming that the four men must continue to be held as "they pose a danger to human life."
"The events in Huwara were a 'mark of Cain' and a watershed moment for our society," he wrote. "Those now under arrest had been planning additional acts of violence. They took advantage of the tragic events in Judea and Samaria, made their plans, and engaged in indiscriminate acts that endangered the lives of many."
Administrative detentions have been used not infrequently by Israeli governments and are usually condemned by human rights groups due to the fact that those held are not charged with any crime and can technically be held indefinitely, the only justification provided being that undisclosed information indicates that they intend to commit further offenses.