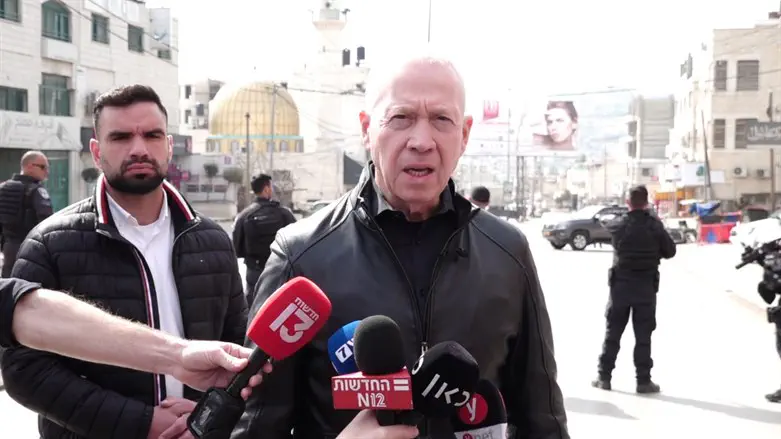 Defense Minister Yoav Gallant in Huwara
Hillel Meir
After fifty members of the coalition, including many ministers as well as representatives of all the parties in the government, penned a letter to Defense Minister Yoav Gallant demanding that the Jews recently placed under administrative arrest at his order be immediately released, Gallant has issued his response, justifying the arrests.
"The events in Huwara were a 'mark of Cain' and a watershed moment for our society," Gallant wrote. "Those now under arrest had been planning additional acts of violence. They took advantage of the tragic events in Judea and Samaria, made their plans, and engaged in indiscriminate acts that endangered the lives of many."
Among the signatories in the letter to Gallant demanding the release of the detainees, all Jews who live in Samaria, were National Security Minister Itamar Ben-Gvir, Likud MK Shlomo Karhi, MK Orit Strock (Religious Zionism), and MK Idit Silman, as well as a long list of ministers and deputy ministers, who all criticized the administrative detentions as "blatant moves to bypass the courts."
Administrative detentions have been used not infrequently by Israeli governments and are usually condemned by human rights groups due to the fact that those held are not charged with any crime and can technically be held indefinitely, the only justification provided being that undisclosed information indicates that they intend to commit further offenses.
During the previous government's term, then-Defense Minister Benny Gantz ordered the administrative detention of two people, also Jews from Samaria: Elhai Carmeli and Avraham Yair Yered, and this fact was noted in the letter addressed to Gallant.
"Those administrative orders were issued without any judicial process or evidence produced against them, while [Gantz] ignored a court ruling ordering the minister to release them," the letter continued. "With regard to Elhai Carmeli, Benny Gantz went even further and signed the administrative detention order during his trial, in a blatant disregard for judicial procedure. The two men have remained in detention now for over three months, with Benny Gantz ignoring appeals from 40 Knesset members, members of the current coalition, calling on him to cancel those administrative orders."
The MKs added that, "Last week, at the height of an extremely murderous wave of terrorist attacks, Minister Gallant decided to sign two new administrative detention orders for two Samarian Jews, David Hai Hasdai, who is a married father of two, and Tzadok Hacohen, a 17-year-old minor, and also to extend the detention of Elhai Carmeli for another three months."
The letter contains sharp criticism of Gallant, accusing him of "earning for our government the dubious title of the government that has placed the largest number of Jewish residents of Judea and Samaria in administrative detention in the last 30 years. We believe that use of administrative detention without judicial process should be reserved for extremely serious cases such as the cases known to us involving murderous enemies of our people.
"In all these four cases, the courts ordered their immediate release," the signatories noted. "If there are still concrete suspicions against them, please give due respect to the police and open a criminal investigation as is done for any other criminal event that occurs in this country."
The letter, the initiative of Otzma Yehudit MK Limor Sonn Har Melech, concludes: "We regard these [administrative] orders as excessively punitive when used against residents of Judea and Samaria and call on you as the Defense Minister in a right-wing government to order their cancellation and to cease using them as emergency measures against such people, treating them as if they were enemies of the state. This certainly applies when we are not referring to extreme incidents which justify infringement of human rights."