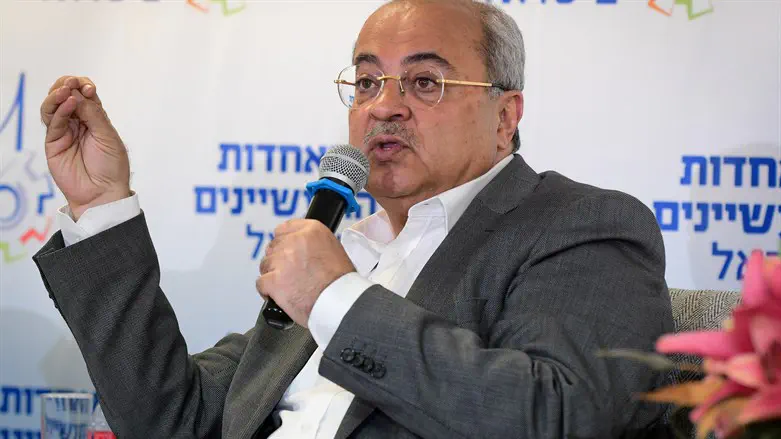 Ahmed Tibi
Avshalom Sassoni/Flash 90
A delegation of the High Follow‑Up Committee for Arab Citizens of Israel and several Arab Knesset members on Sunday visited the Huwara area, where brothers Hallel and Yagel Yaniv were murdered in a terrorist attack last week, which was followed by riots by extremists in Huwara.
The delegation included MKs Ahmed Tibi and Aida Touma Sliman, as well as former members of the Knesset, the head of High Follow‑Up Committee Mohammad Barakeh, Sheikh Raed Salah who heads the northern branch of the Islamic Movement, and representatives of Arab organizations in Israel.
In a conversation with the Palestinian Authority's official news agency, WAFA, Tibi said that the delegation was updated about the extensive damage caused as a result of what he called the "terrorist crime committed by Jewish terrorists", and stressed that "the images of the burning of Huwara will not be forgotten and have entered history."
Tibi noted, "It is no longer enough for the international community to say: We express our concern about what is happening here. Unarmed people here are being attacked with firebombs, bullets and murder. The settlers have support from the army of the occupation."
"The army supported the settlers in burning Huwara, prevented the arrival of ambulances and civil defense, and gas grenades and stun grenades were also fired, and in addition, the army and intelligence were aware of this attack," he charged.
Commenting on the remarks of Finance Minister Bezalel Smotrich, who called for Huwara to be "wiped out" and later walked back the comments, Tibi said, "This is not a slip of the tongue, but rather a deliberate and written political plan, and it was also reflected in the statement of MK Zvika Fogel, chairman of the National Security Committee in the Knesset, who said he 'rejoiced over the burning of Huwara.'"
Tibi demanded that the international community stop expressing concern and protest over Smotrich's remarks, and instead take tangible action that would be reflected in preventing him from entering their territories.