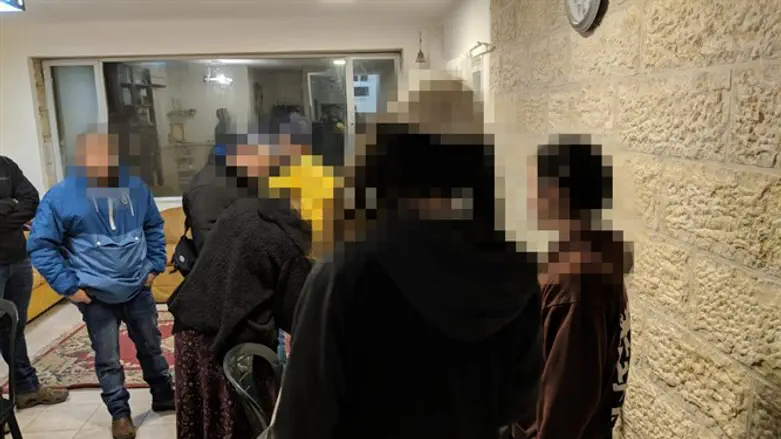 Friends of the arrested at the entrance to the hearing
Courtesy of the photographer
In an irregular order, Central District Court in Lod rejected the appeal for the minors arrested by Shin Bet to meet with attorneys.
The minors were arrested yesterday on suspicion of being involved in an incident that has not been cleared for publication. An order has been put out forbidding the minors from meeting with their attorneys.
Attorney Itamar Ben Gvir is representing the boys said, "To my sorrow, the courts give the Shin Bet too much backing. It was only recently that we have been exposed to the evidence of the harsh treatment when it comes to interrogating detainees in the Duma incident. The detainees begged the arresting judges to stop their conduct. The court ignored their request.
"We intend to appeal to the Supreme Court and prevent any further harm to minors," Ben Gvir added.
An attorney for Honenu Organization, Adi Keidar representing the two minors said, "There was a discussion a few minutes ago on preventing our meeting [with the minors]. The appeal that I and Attorney Nati Rom submitted this morning through the Honenu Organisation. We are appealing and protesting the violation to human right and minors who don't have a criminal record. The goal for the Shin Bet is to bring back what had happened in the Duma incident. We expect the courts to return and remember the lessons learnt and the harsh criticism placed on them. And to allow us to meet with our clients accordingly."
Attorney Rom added, "To our great disappointment the Shin Bet is using a harsh implement in preventing the meeting with attorneys. This violates the basic human rights of these minors, a harsh violation to these minors. This implementation is not appropriate and should be investigated by the Israel Police and not by the Shin Bet, as Israel Police investigates hundreds of similar cases. This harsh violation is a severe injury to the minors. We worry about the safety. We do not know what is happening with them, we do not know what is being done to them. The families don't know what is happening with them. This implantation must only be used in extreme ticking bombs cases. We are not talking about such a case here."
Honenu is Israeli legal aid organization that give legal assistance to soldiers and civilians.