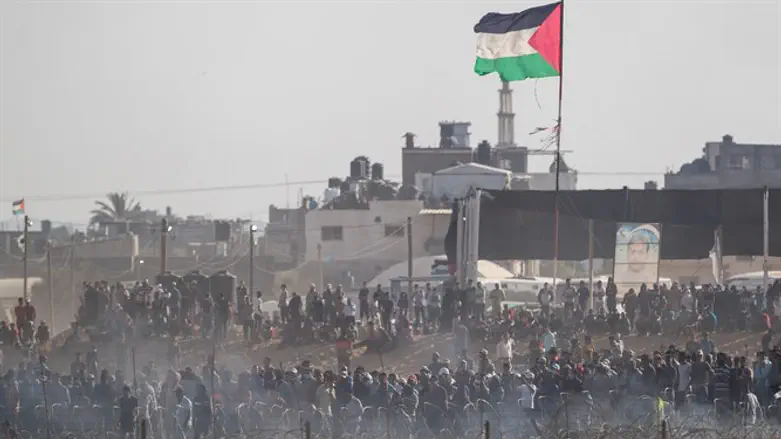 Riot on the Gaza border
Yonatan Sindel/Flash 90
One Gaza terrorist was killed and others injured when Israeli security forces thwarted an infiltration attempt into Israel from the Gaza Strip Monday, Arab media outlets claimed.
According to initial reports, a group of Gaza-based terrorists attempted to cross into Israeli territory, but were spotted by an IDF force stationed near the border.
The IDF soldiers opened fire on the terrorist cell, wounding several of the terrorists. One of the terrorists was critically wounded in the shooting and later died.
"Sabri Ahmed Abu Khader, 24, was killed by bullets of the occupation forces," Gaza health officials said.
No injuries were reported among the IDF soldiers in the incident.
According to an Israeli military spokesperson, however, the terrorists were injured by an explosive device they had set off to breach the Israeli security fence.
The spokesperson said that the attempted infiltration occurred along the northern edge of the Gaza Strip. Five terrorists placed an explosive device along the fence, and were injured when it exploded.
"The security infrastructure exploded," the spokesperson said. "Subsequently, several terrorists were injured."
The attempted border infiltration comes hours after Israel Air Force jets pounded Hamas positions in Gaza in retaliation for waves of attacks using incendiary balloons and kites carrying improvised explosive devices.
During the airstrikes early Monday morning, Israeli fighter jets hit nine Hamas positions.
Terrorists in the Hamas-ruled Gaza Strip also fired three rockets at Israel overnight. One of the rockets landed inside the Strip, while the other two landed in Israeli territory. No injuries or damage were reported.