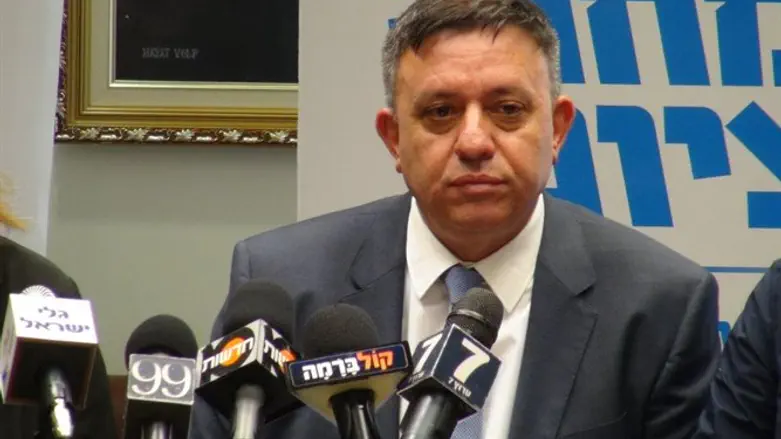 Avi Gabbay
Hezki Baruch
Zionist Union chairman Avi Gabbay declared on Saturday that he would not sit in the same coalition as the Arab Joint List party.
"We will not sit with them, unequivocally. I do not see anything that connects us to them," Gabbay said at a cultural event in Be'er Sheva.
He added, however, that his party would be the political address for all Israelis, stressing, "I do not believe in the perception that says 'this one needs to be disqualified and that one needs to be disqualified.'"
"In order to reach a situation in which we head the next government, we will need about 27 seats and for [Yair] Lapid to win about 11," he noted, adding that it is likely that Tzipi Livni will once again have a reserved spot on the Labor party's list for the next election.
"I hope that [former Defense Minister] Bogie Ya'alon will join the Labor party," said Gabbay.
Despite being elected members of Israel's Knesset, Arab MKs have constantly acted against the interests of the State.
For example, just last week MK Hanin Zoabi openly stated that Jews do not have a right to self-determination, and that Israel should not exist as a Jewish state.
Earlier this month, Joint List head MK Ayman Odeh called Hamas leader Ismail Haniyeh to congratulate him on the reconciliation agreement between Hamas and Fatah.
In his remarks on Saturday, Gabbay also responded to U.S. President Donald Trump's speech on Friday, in which he confirmed he will not certify Iran's compliance with the 2015 nuclear deal.
"We saw a very nice speech," said Gabbay, but also noted that "Trump has already told Congress twice that Iran is adhering to the agreement. Iran is a real threat to Israel, but not an existential one."
Asked what the next stage was regarding Iran, he said that Israel's interests should be safeguarded.
"The Americans are not in the Middle East, but Israel will remain here for the long term, and we must continue to press for sanctions, especially regarding terrorism. I hope Trump will take the next step and not just give speeches," stated Gabbay.