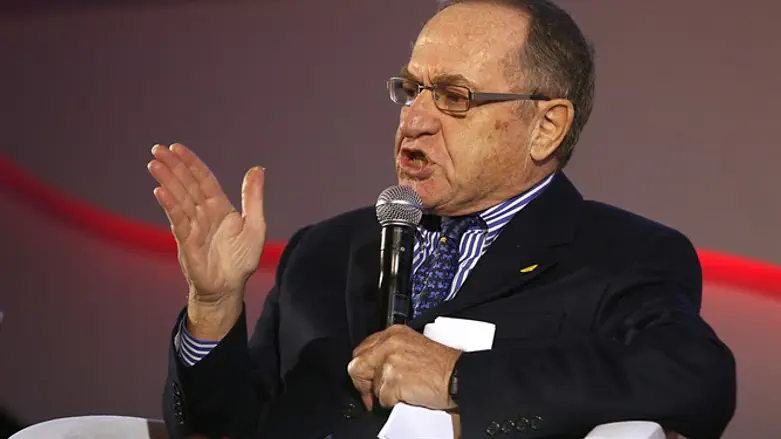 Professor Alan Dershowitz
Gideon Markowicz/Flash90
A prominent American Jewish jurist and Democratic critic of President Obama has accused the Israeli left and media of attempting to subvert the Israeli government, playing up investigations into the Netanyahu family in an effort to undo the Prime Minister's electoral victory in 2015.
Professor Alan Dershowitz, a long-time Democrat who supported Obama until UN resolution 2334 and who is a staunch supporter of the Jewish state, attacked the recent United Nations Security Council resolution condemning Israel's presence in Judea and Samaria and strongly criticized the Obama administration both for allowing its passage and later justifying it in a speech delivered by Secretary of State John Kerry.
Since then, in an interview with Israel Hayom published on Sunday, Dershowitz took aim at the Israeli left and media outlets for what he described as attempts to use ongoing police investigations into the Netanyahu family to hobble the Prime Minister.
"[T]hey can't beat him through democratic means, so they're trying to use these investigations and the media to push him out of office. That would really undercut democracy. He's been elected by a proper method of election in Israel and he should be left to complete his term without interference. If there are issues they should be pursued after he leaves office."
"I've never seen a situation where the media has been so obsessively focused on what appears to be the most trivial details -- whether a Prime Minister's wife helped care for her dying father, whether or not furniture should have been in one location or another location -- these are the kind of things that would never happen in the U.S. In the U.S., the White House pays for everything, and in Israel there's apparently a 200-page book about how you deal with costs in the Prime Minister's house."
In its latest update, Judicial Watch, said that following Obama's latest vacation in Hawaii, his travel costs over the last eight years have reached more than $96.9 million.
The Prime Minister's wife, Sara Netanyahu, has been accused of misuse of public funds, allegedly purchasing furniture for the family's private residence with money allocated for the Prime Minister's Office. In addition, she was even accused by the media of not reporting the deposits on empty bottles which she returned to stores.
In a separate case, this November a report by Channel 10 suggested a possible conflict of interest in a deal negotiated by the Netanyahu government to purchase ballistic missile submarines from a German firm allegedly represented by an associate of the Prime Minister's attorney. The deal, however, is between heads of government and went through all the proper channels.
While the allegations against the Prime Minister and his wife may or may not be valid, said Dershowitz, they must not be used to undermine a sitting Head of Government and prevent him from performing his duties, particularly during the current diplomatic crisis sparked by the UN Security Council resolution.
"The Prime Minister in this case has to work 24/7 particularly now, between now and the time when President Obama leaves office, to respond to the U.N. Security Council resolution, to the Kerry speech, to try to prevent another Security Council resolution - the idea that the Prime Minister is now going to have to be questioned about what appears to be relatively trivial incidents, really undercuts democracy."
Instead, argued Dershowitz, investigations into the alleged corruption charges should be delayed until Netanyahu leaves office. In the interim, he argues, the Prime Minister must be granted immunity from such charges.
"I think this reflects a general problem around the world when democracy is being undercut by investigations and media attacks on properly elected officials. I think there are investigations that should be delayed until after the public official, the prime minister or president of a country, finish their term of office."
"[T]he idea that he has to now take time from serving the people of Israel to prepare, work with lawyers, to spend hours with investigators, in what appears to be -- from everything I can see -- relatively trivial accusations; I mean, if they were serious accusations, the statute of limitations can be extended. Nobody is above the law, we all agree with that, but he can be held accountable after he leaves office. Not interfere with what's going on while he's in office. ... I think it's a mistake to be investigating the prime minister at this time. Let the investigation go forward, but the questioning should wait until he leaves office."