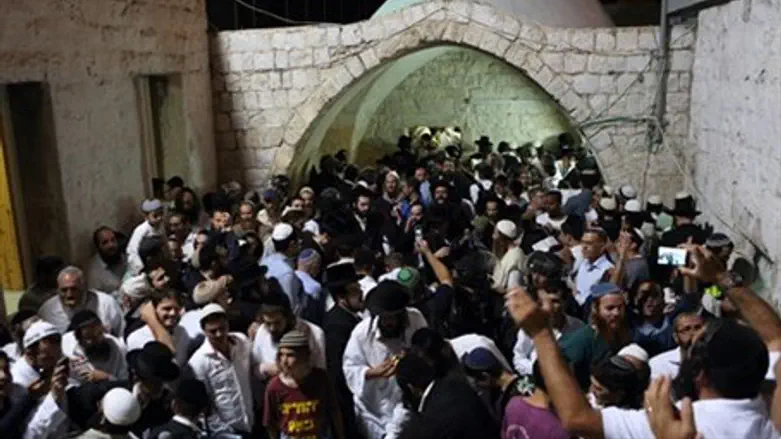 Joseph's Tomb
Yaakov Naomi/Flash 90
Hundreds of Jewish worshipers prayed at Joseph's Tomb in Shechem on Wednesday night, defying Muslim violence at the holy site.
The Jewish pilgrims were accompanied by a heavy IDF security escort into the Palestinian Authority-controlled city, in honor of Passover.
As the busloads of visitors made their way into the city, they came under attack from Arab rioters who hurled rocks and burning tires in an effort to prevent the pilgrimage. IDF forces responded with riot control methods, and succeeded in dispersing the attackers. No Israelis were injured in the clashes although one Arab molotov cocktail-thrower was shot with a rubber-coated bullet, according to sources at the scene.
Under the Oslo Accords the Palestinian Authority is supposed to guarantee Jewish pilgrims free access to Jewish holy sites under their control, but in practice it has never attempted to do so. Instead, Muslim rioters and terrorists are granted free rein to attempt to attack Jewish visitors. As such, Jews wishing to pray at such sites - many of which are now under Arab control - can only do so periodically, with an army escort, and on armored buses.
Jewish visits to Joseph's Tomb take place once every few weeks, and are facilitated by the IDF, Border Police, Civil Administration and Israel Police.
The IDF emphasized the crucial importance of close coordination between pilgrimage organizers and security forces, and warned against attempts by worshipers to enter the area alone.
In one particularly tragic incident, in 2011 a group of Breslov Hassidim who attempted to visit the tomb without coordinating with the IDF were fired upon by Palestinian Authority policeman. Israeli citizen Ben Yoseph Livnat was murdered and several others were injured in that incident.